* DETAILS
While our recommended frame color and border or bleed choice is what we feel best complements the art and vision of the artist, by all means, choose a look that best complements your style and space.
Paper Size: Is based on Full Bleed and adding a border will change the aspect ratio, so paper size may adjust slightly smaller.
Glazing: To eliminate reflective glare, our biggest work (70″ to 80″ on the long side) is protected by an archival laminate in lieu of acrylic. Up to 60″ on the long side is protected by UV acrylic.
Border: If the framed image above is showing a white border, then clicking on Full Bleed will not show what full bleed looks like. We only show how a border will look. Your choice will appear on your order. The border on work up to 40″ x 60″ is about 2.5″ and about 3.5″ on our biggest work.
Frame Color: Clicking on Frame Color will not change the color of the frame, but your choice will appear on your order.
Frames: Our frames are custom made from robust solid wood Studio moulding, 2″ deep with a 3/4″ face width and joined at the corners with butterfly joints.
Orientation: Some work can be displayed either horizontal or vertical—should you wish to change orientation, please contact us and we'll place the D-rings accordingly and confirm via email.
We print exclusively on Hahnemühle 100% Cotton Photo Rag Baryta paper and museum shadowbox frame in solid wood, Studio moulding handcrafted in a robust, contemporary profile preferred by galleries and museums worldwide.
Ask us should you need help or clarification. And please double check your (c)art to ensure your choices are correct.
Free Shipping to the US. Contact us for global shipping options.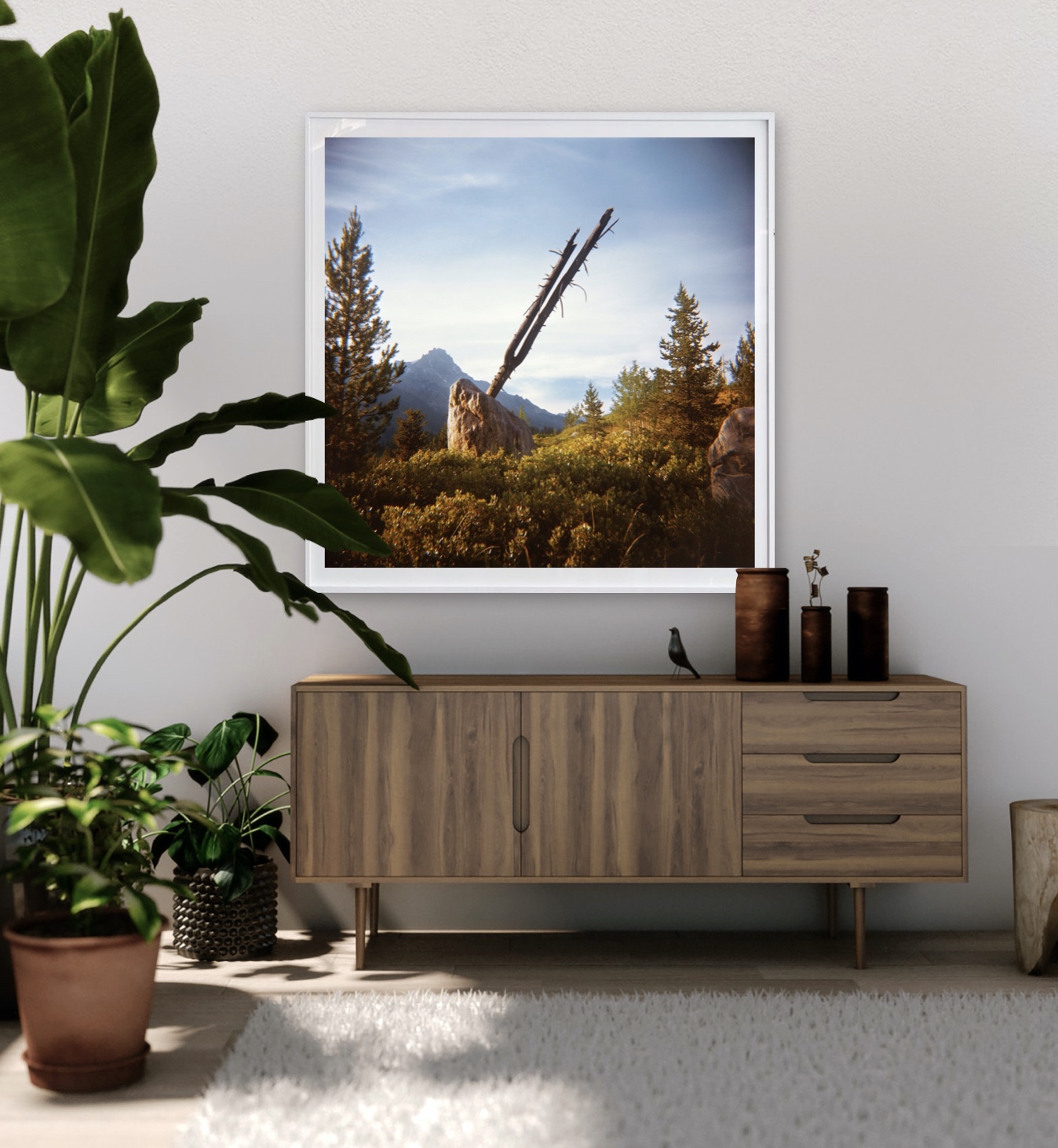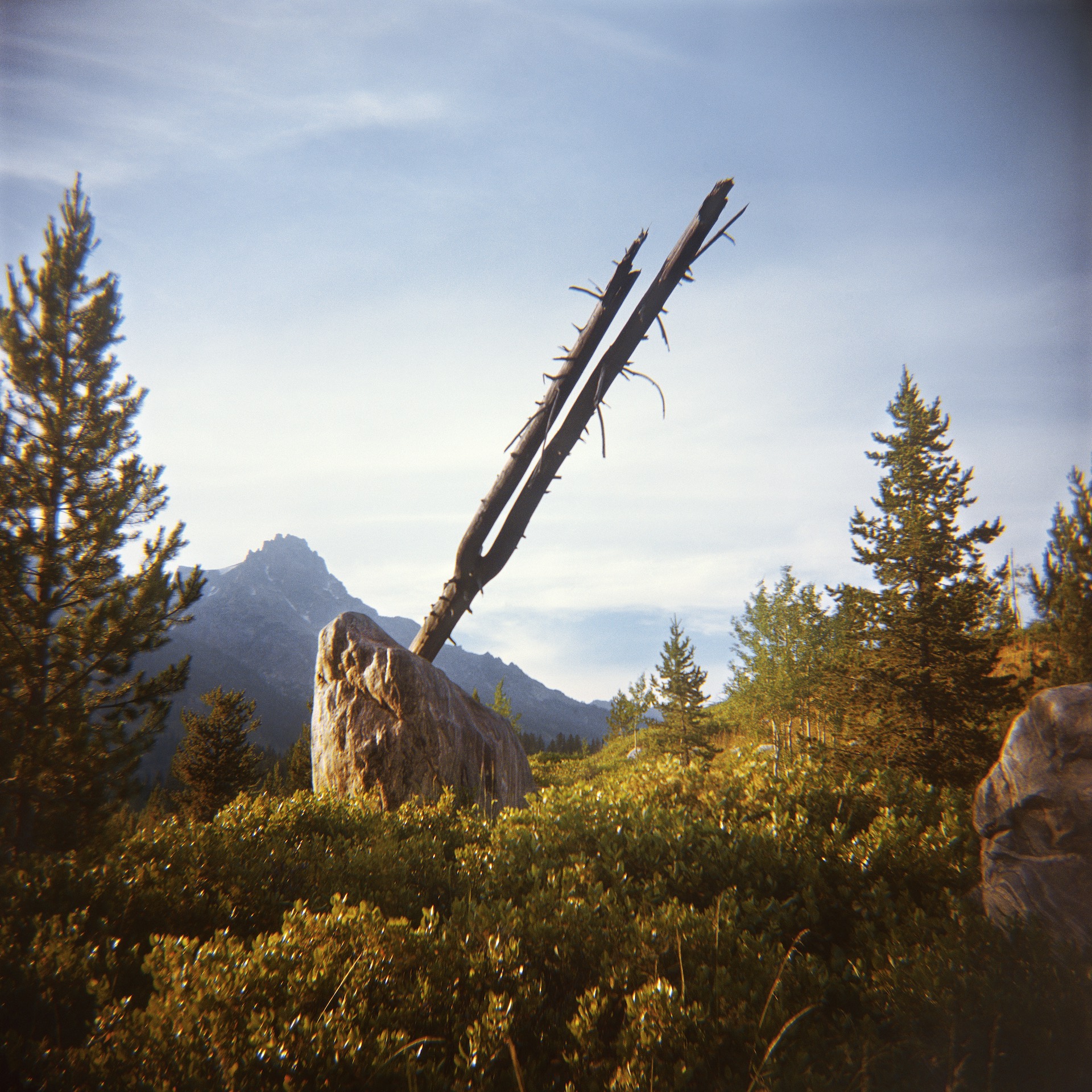 The image, Tuning Fork, was photographed with a low-tech, medium format camera called the Holga and 120 Kodak Portra film. This low-tech camera has a plastic lens with two f-stops and four focus positions. Introduced to the US by China in the early 1980s, each camera has its own idiosyncratic nature, but in general the Holga camera is known for its soft focus, edge vignetting, light leaks, and happy accidents. There exists a very active Holga and plastic camera photographic community demonstrated by numerous annual shows, publications, and artists faithful to this artistic tool. I have photographed with Holga cameras for over fifteen years and house an extensive collection each with its own idiosyncratic qualities. I photographed Tuning Fork with my very first Holga (SF 120), which is among my most treasured cameras. Shooting with a Holga helps me create the kind of photograph that mirrors my emotional register – the soft focus, the nostalgic and dreamy qualities, the layers of narrative in the play among clarity and obscurity. I have often photographed the same subject with both a Holga and twin-flex Rolleiflex, and whereas I might think both are effective aesthetically for different reasons, the Holga images resonate with me more deeply in an oneiric and even elegiac way. I also love the freedom and spontaneity the Holga offers me. It falls lightly on the chest, bundles up easily in a bag, and I can easily shoot from the hip and with one hand. But perhaps most significant, photographing with a Holga over the years has become a practice of letting go and being in the present as it unfolds. Due to all the little mishaps that might occur with a Holga, I'm hopeful and inspired during the shoot but not attached to the images until I have the negatives and proofs in hand. Tuning Fork illustrates the union of my artistic vision and capturing the fading light after a day well spent in the woods.