* DETAILS
While our recommended frame color and border or bleed choice is what we feel best complements the art and vision of the artist, by all means, choose a look that best complements your style and space.
Paper Size: Is based on Full Bleed and adding a border will change the aspect ratio, so paper size may adjust slightly smaller.
Glazing: To eliminate reflective glare, our biggest work (70″ to 80″ on the long side) is protected by an archival laminate in lieu of acrylic. Up to 60″ on the long side is protected by UV acrylic.
Border: If the framed image above is showing a white border, then clicking on Full Bleed will not show what full bleed looks like. We only show how a border will look. Your choice will appear on your order. The border on work up to 40″ x 60″ is about 2.5″ and about 3.5″ on our biggest work.
Frame Color: Clicking on Frame Color will not change the color of the frame, but your choice will appear on your order.
Frames: Our frames are custom made from robust solid wood Studio moulding, 2″ deep with a 3/4″ face width and joined at the corners with butterfly joints.
Orientation: Some work can be displayed either horizontal or vertical—should you wish to change orientation, please contact us and we'll place the D-rings accordingly and confirm via email.
We print exclusively on Hahnemühle 100% Cotton Photo Rag Baryta paper and museum shadowbox frame in solid wood, Studio moulding handcrafted in a robust, contemporary profile preferred by galleries and museums worldwide.
Ask us should you need help or clarification. And please double check your (c)art to ensure your choices are correct.
Free Shipping to the US. Contact us for global shipping options.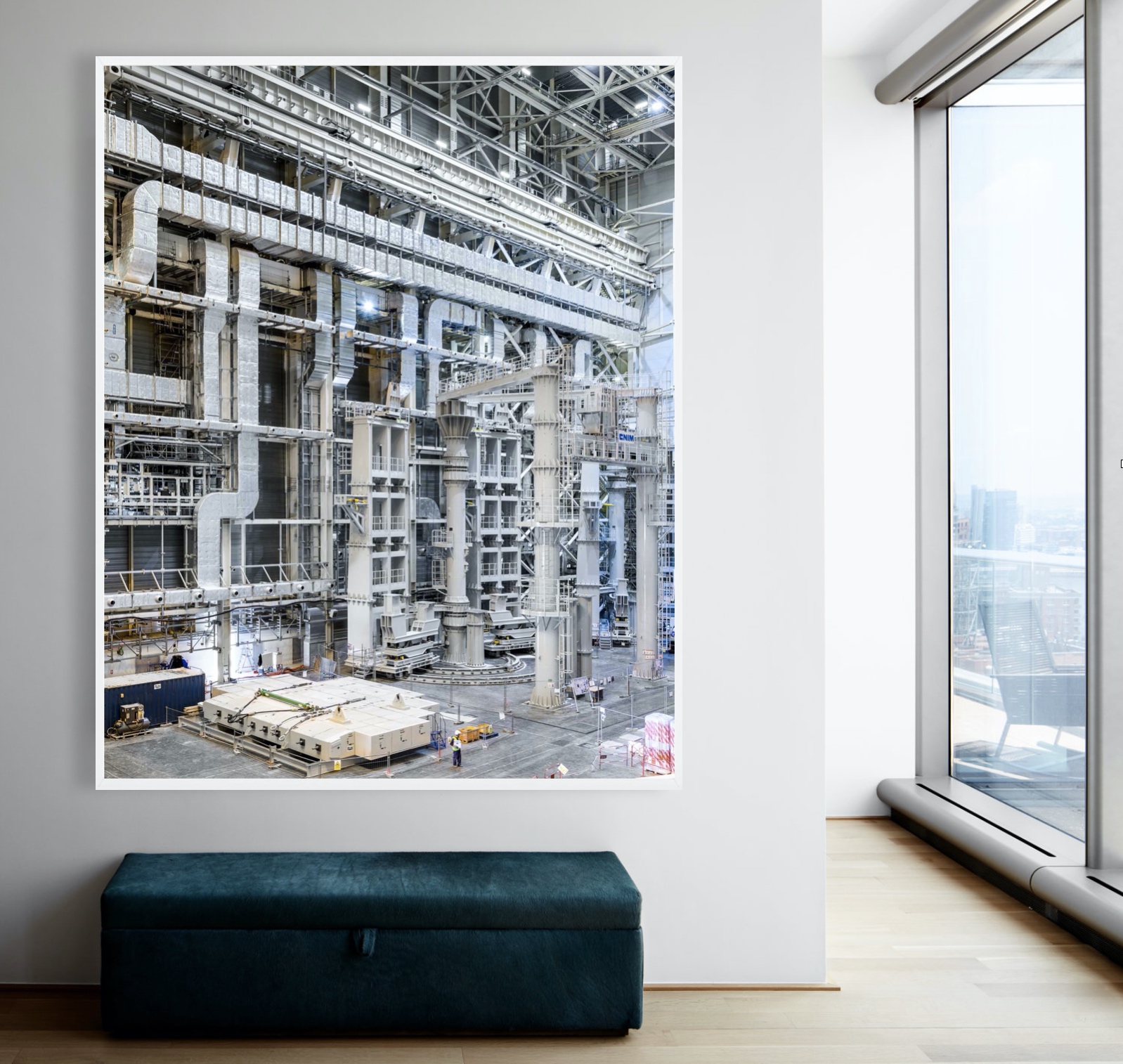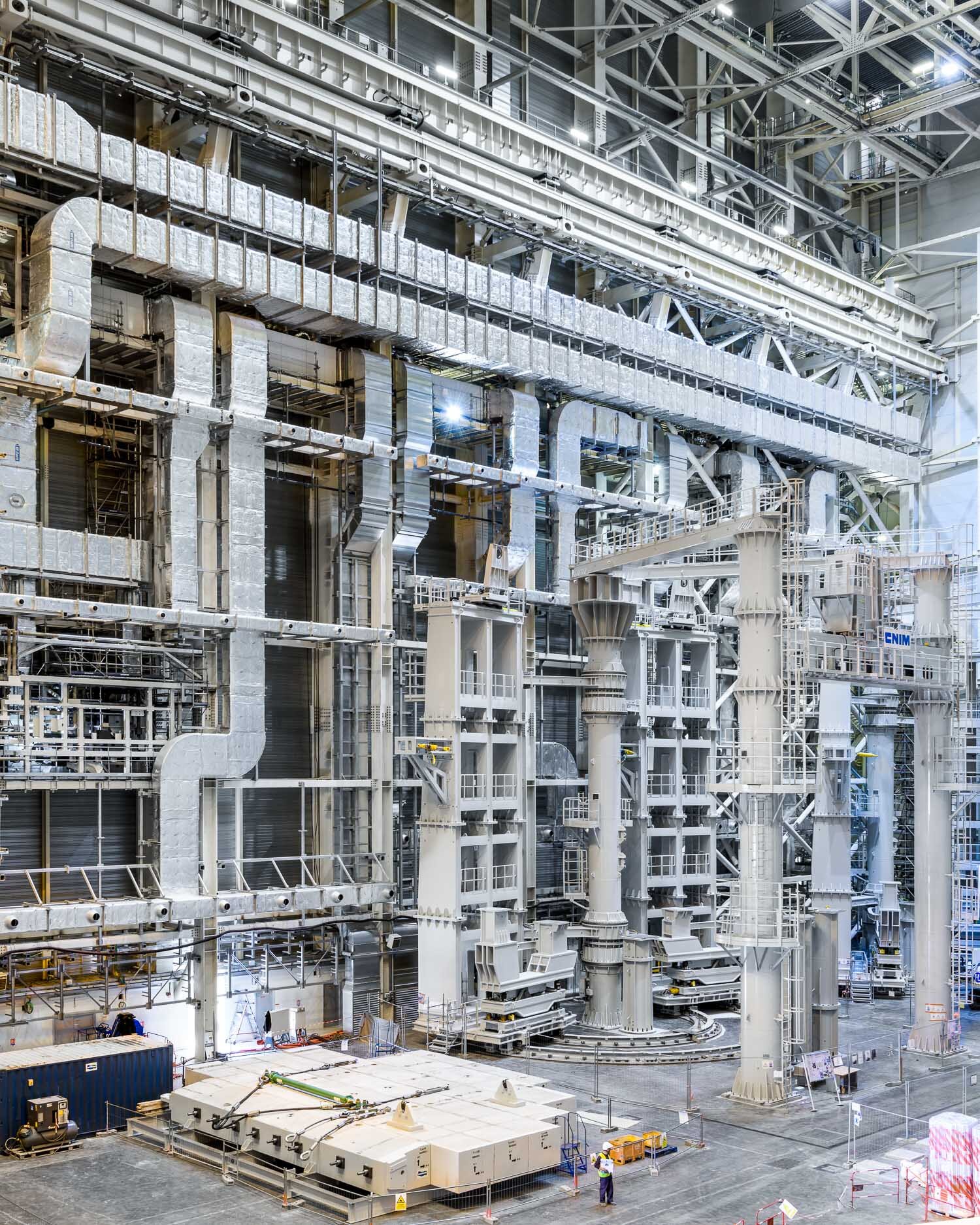 An 800-metric-ton tool will preassemble some of ITER's largest components before a crane lifts them into the machine well. Shot as part of an ongoing project, originally featured in Bloomberg Businessweek November 2019. ITER (International Thermonuclear Experimental Reactor and Latin for "the way") is an international nuclear fusion research and engineering megaproject that will be the world's largest magnetic confinement plasma physics experiment. In southern France 35 nations are collaborating on a magnetic fusion device designed to prove the feasibility of fusion as a large-scale and carbon-free energy source based on the same principle that powers our Sun and stars. Countries funding and running in the project include the EU, the United States, Russia, China, India, Japan, and South Korea. The ITER project aims to make the long-awaited transition from experimental studies of plasma physics to full-scale electricity-producing fusion power stations. The ITER fusion reactor is designed to produce 500 MW of output power for around twenty minutes while needing only 50 MW of input— thus demonstrating the principle of producing more energy from the fusion process than is used to initiate it, something not hitherto achieved in any fusion reactor. The facility is expected to finish its construction phase in 2021, to start commissioning the reactor in the same year, and to begin plasma experiments in 2025, with full deuterium–tritium fusion experiments starting in 2035.