* DETAILS
While our recommended frame color and border or bleed choice is what we feel best complements the art and vision of the artist, by all means, choose a look that best complements your style and space.
Paper Size: Is based on Full Bleed and adding a border will change the aspect ratio, so paper size may adjust slightly smaller.
Glazing: To eliminate reflective glare, our biggest work (70″ to 80″ on the long side) is protected by an archival laminate in lieu of acrylic. Up to 60″ on the long side is protected by UV acrylic.
Border: If the framed image above is showing a white border, then clicking on Full Bleed will not show what full bleed looks like. We only show how a border will look. Your choice will appear on your order. The border on work up to 40″ x 60″ is about 2.5″ and about 3.5″ on our biggest work.
Frame Color: Clicking on Frame Color will not change the color of the frame, but your choice will appear on your order.
Frames: Our frames are custom made from robust solid wood Studio moulding, 2″ deep with a 3/4″ face width and joined at the corners with butterfly joints.
Orientation: Some work can be displayed either horizontal or vertical—should you wish to change orientation, please contact us and we'll place the D-rings accordingly and confirm via email.
We print exclusively on Hahnemühle 100% Cotton Photo Rag Baryta paper and museum shadowbox frame in solid wood, Studio moulding handcrafted in a robust, contemporary profile preferred by galleries and museums worldwide.
Ask us should you need help or clarification. And please double check your (c)art to ensure your choices are correct.
Free Shipping to the US. Contact us for global shipping options.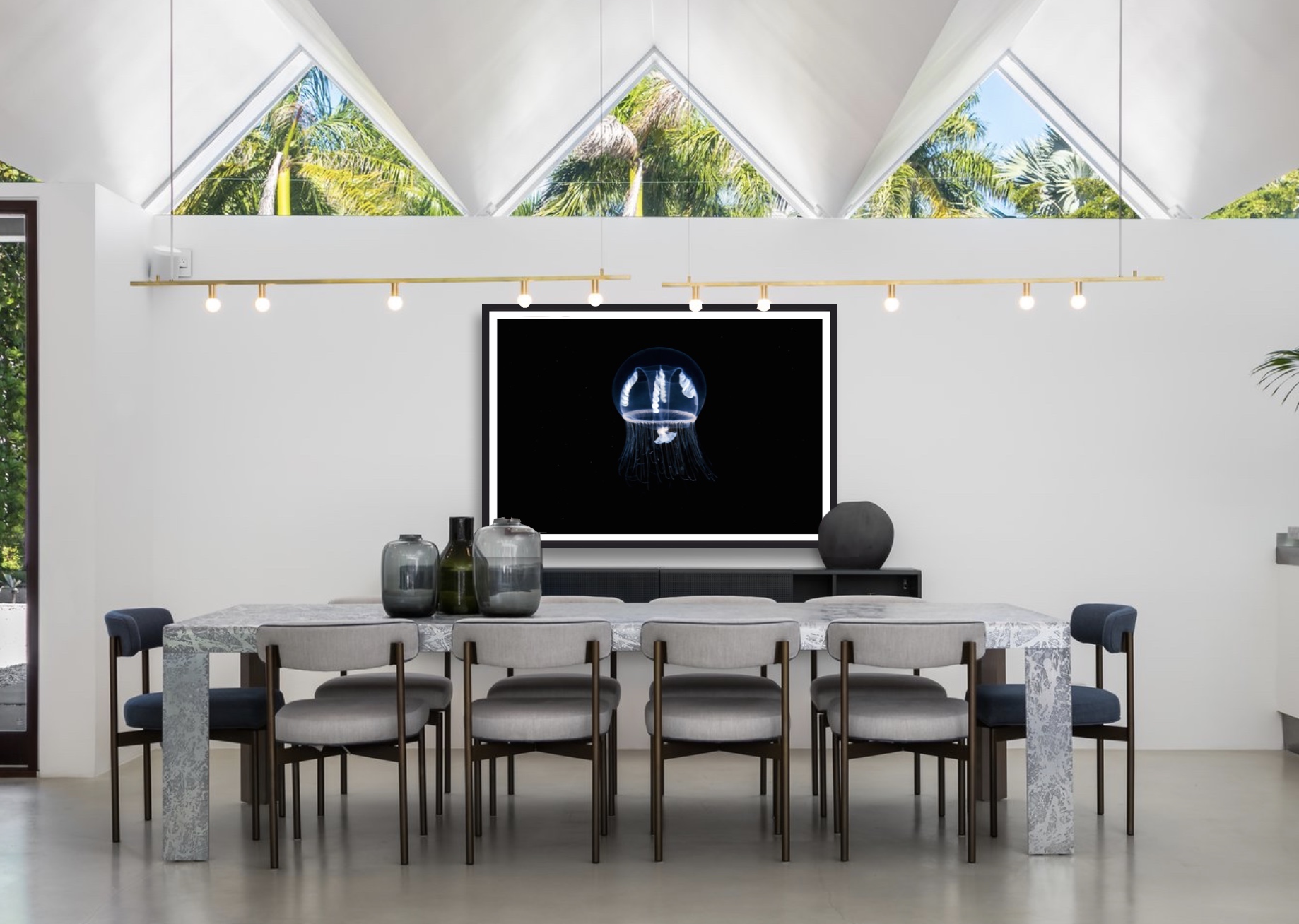 I'm a marine biologist, explorer and underwater photographer, head of the divers' team at Moscow State University's White Sea Biological Station. My team and I are used to diving in unfavourable and often harsh conditions where we successfully conduct complex research projects. My own goal is to study underwater life through camera lenses and to boost people's interest in marine biology, sharing all my findings on social media and in real life through public lectures, exhibitions and media events. I have the amazing opportunity to see beauty in the darkness underwater, and this led me to multiple collaborations with National Geographic, Discovery Channel, the BBC, Nature, Smithsonian and many more.I'm also leading Aquatilis Expedition – representing a new kind of research, one which perfectly blends art and science, and one which involves both regular people and the top minds in the scientific community. We're preparing to launch in late 2016 as an international team of divers, scientists and videographers on a proposed three-year-long, 35,000-nautical-mile ocean trek to find new species and photograph sea creatures as never before.