* DETAILS
While our recommended frame color and border or bleed choice is what we feel best complements the art and vision of the artist, by all means, choose a look that best complements your style and space.
Paper Size: Is based on Full Bleed and adding a border will change the aspect ratio, so paper size may adjust slightly smaller.
Glazing: To eliminate reflective glare, our biggest work (70″ to 80″ on the long side) is protected by an archival laminate in lieu of acrylic. Up to 60″ on the long side is protected by UV acrylic.
Border: If the framed image above is showing a white border, then clicking on Full Bleed will not show what full bleed looks like. We only show how a border will look. Your choice will appear on your order. The border on work up to 40″ x 60″ is about 2.5″ and about 3.5″ on our biggest work.
Frame Color: Clicking on Frame Color will not change the color of the frame, but your choice will appear on your order.
Frames: Our frames are custom made from robust solid wood Studio moulding, 2″ deep with a 3/4″ face width and joined at the corners with butterfly joints.
Orientation: Some work can be displayed either horizontal or vertical—should you wish to change orientation, please contact us and we'll place the D-rings accordingly and confirm via email.
We print exclusively on Hahnemühle 100% Cotton Photo Rag Baryta paper and museum shadowbox frame in solid wood, Studio moulding handcrafted in a robust, contemporary profile preferred by galleries and museums worldwide.
Ask us should you need help or clarification. And please double check your (c)art to ensure your choices are correct.
Free Shipping to the US. Contact us for global shipping options.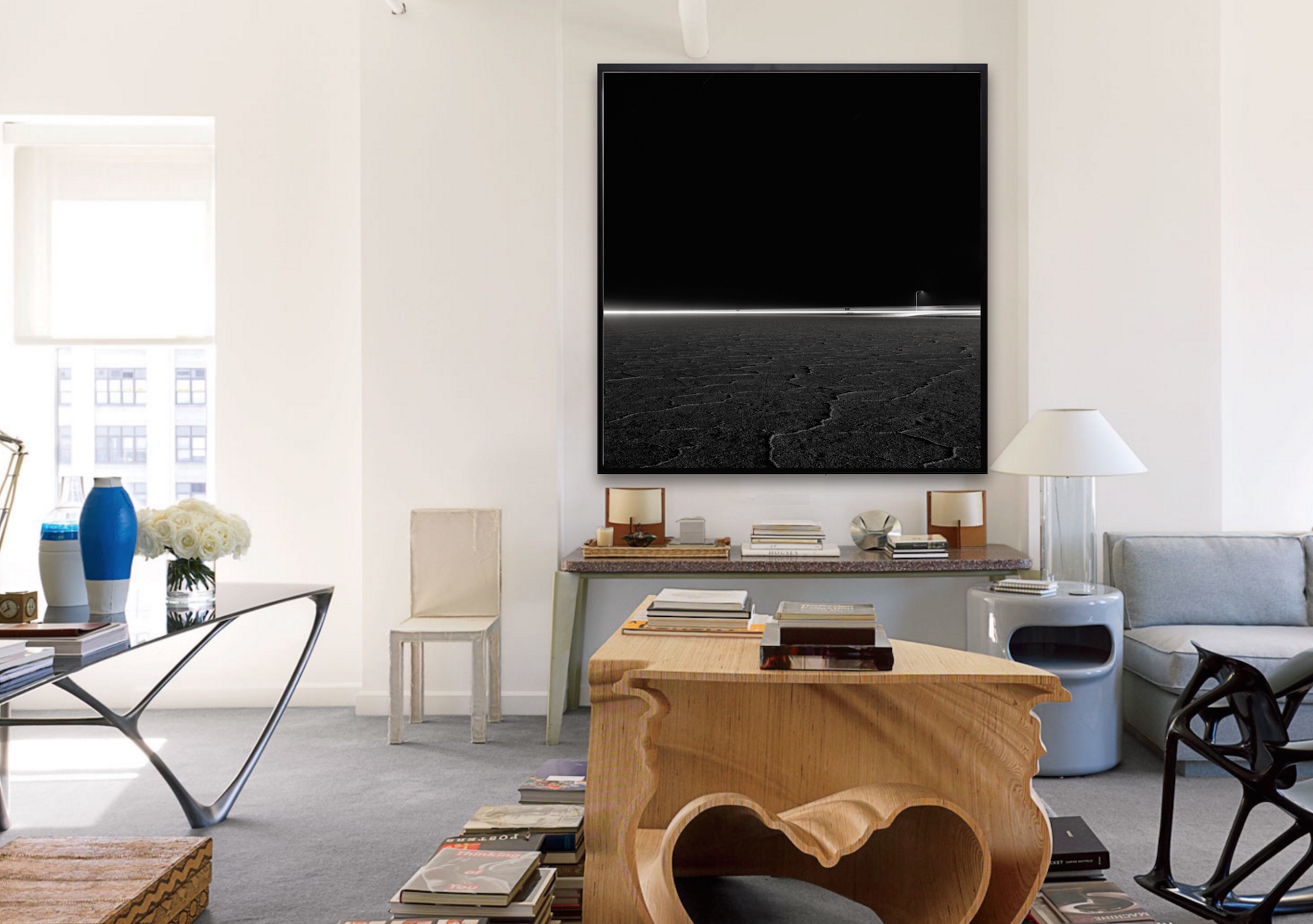 Sometimes I have the uncanny feeling that my photographs are predetermined. While my inner cynic tells me that this must be a trick of the mind conjured after the fact, this feeling—of being driven to a particular place at a particular time so that I would find a thing I was supposed to find—can be so strong and seemingly outside of my own control that it makes the hair on back of my neck stand up.
Such was the case with the photograph of Interstate 80 in Utah.
I was thrumming along the freeway across the salt flats when I felt compelled to pull over. I grabbed my gear from the back seat and bounded off into the emptiness, far out, until the sounds of the cars receded to a low hum, until, out on that vast plane, I felt like I was a little boat on a big dark sea. I turned back to the lights, back to the distant shore, and before me was the picture I was there to make.
My favorite photographs are ones that seem charged with ideas. Just what those ideas are, are up to the viewer; here, one might think of development, of topography, or perhaps of travel, or time. There isn't a wrong answer; everyone brings their own minds to their looking at things. I like the idea that the viewer will help interpret the picture, that it's a kind of collaboration. I want my pictures to be the spaces in which we'll meet.
Born in San Francisco in 1970, Austin Granger has worked as a baker, house painter, naval radar operator and camera salesman. He first began to photograph while studying philosophy in college as a way to get out of his head. Preferring to use traditional film cameras, Granger has come to see his photography as a spiritual practice—a way in which to shape his life and enrich his relationship with the world. He likes motorcycles a lot too.