4th July Weekend 2017, Long Beach, Washington (From the series American Recreation)
* DETAILS
While our recommended frame color and border or bleed choice is what we feel best complements the art and vision of the artist, by all means, choose a look that best complements your style and space.
Paper Size: Is based on Full Bleed and adding a border will change the aspect ratio, so paper size may adjust slightly smaller.
Glazing: To eliminate reflective glare, our biggest work (70″ to 80″ on the long side) is protected by an archival laminate in lieu of acrylic. Up to 60″ on the long side is protected by UV acrylic.
Border: If the framed image above is showing a white border, then clicking on Full Bleed will not show what full bleed looks like. We only show how a border will look. Your choice will appear on your order. The border on work up to 40″ x 60″ is about 2.5″ and about 3.5″ on our biggest work.
Frame Color: Clicking on Frame Color will not change the color of the frame, but your choice will appear on your order.
Frames: Our frames are custom made from robust solid wood Studio moulding, 2″ deep with a 3/4″ face width and joined at the corners with butterfly joints.
Orientation: Some work can be displayed either horizontal or vertical—should you wish to change orientation, please contact us and we'll place the D-rings accordingly and confirm via email.
We print exclusively on Hahnemühle 100% Cotton Photo Rag Baryta paper and museum shadowbox frame in solid wood, Studio moulding handcrafted in a robust, contemporary profile preferred by galleries and museums worldwide.
Ask us should you need help or clarification. And please double check your (c)art to ensure your choices are correct.
Free Shipping to the US. Contact us for global shipping options.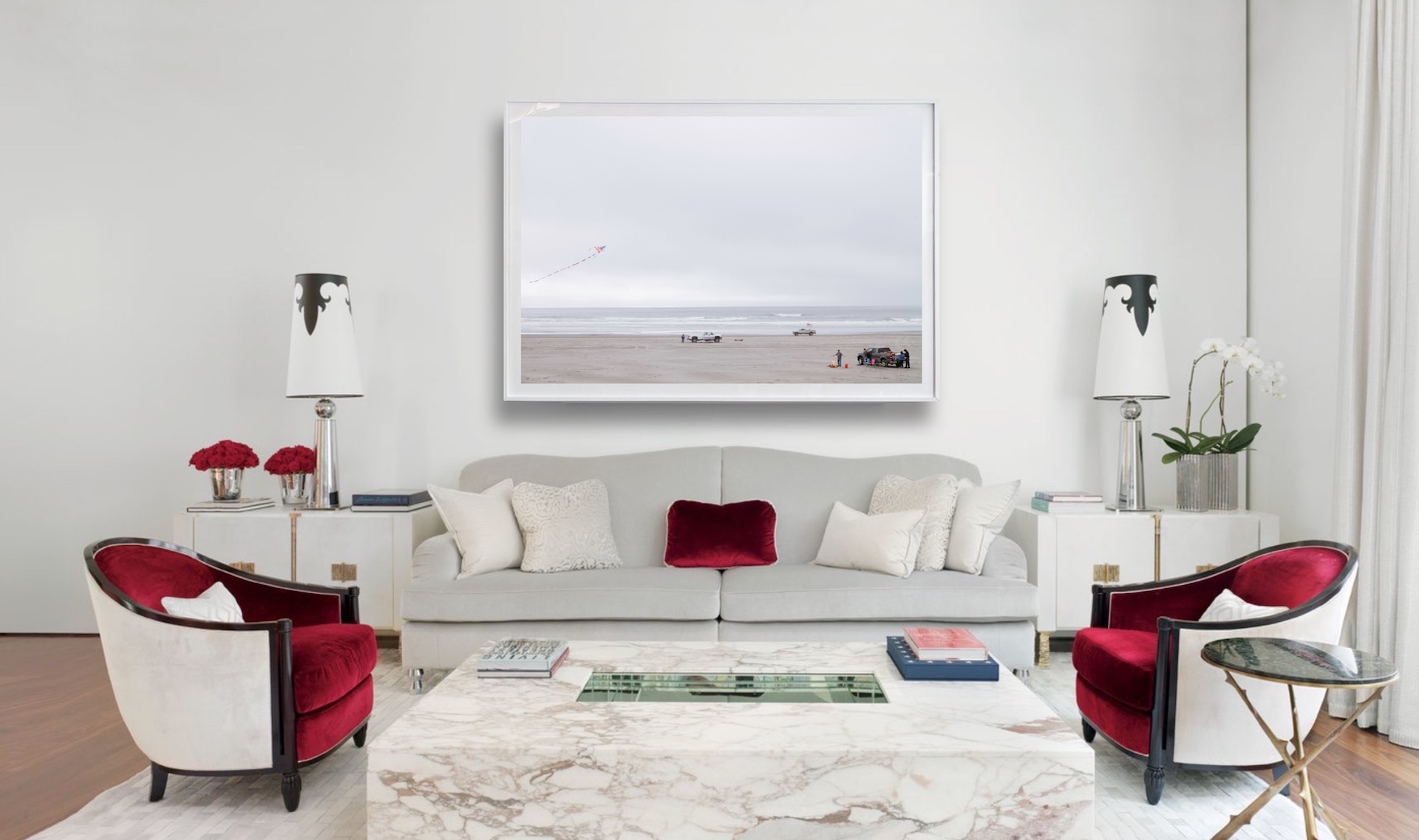 I think a lot about the question 'what does it mean to be American?' It seems as if this question has never been more vital, nor more difficult to answer, especially for an outsider. Images like this one are an attempt to explore this question from my perspective as a resident alien, in the highly charged context of the current political environment in the US – where the concept of 'home' is being challenged daily, even for citizens. The photographs in the series to which this picture belongs were all taken during the 2017 July 4th holiday weekend – the first 4th July holiday following the election of Donald Trump. They were taken on and around the Washington coast, an area popular with tourists and locals where people come to observe the various rituals of recreation, both quiet, and loud. Some visitors came to the coast this 4th July to picnic on the sand with their families, and enjoy a day off work and away from school. Some came for the simple pleasure of driving on a long, smooth, vehicle-accessible beach. Some came to light fires, wave huge American flags and set off fireworks in the rain. This image (like the entire series) was shot using a fixed 50mm standard normal prime. Because it was was captured from a distance with a relatively short lens, the human subjects are represented as I chose to see them: A more pretentious photographer might describe them as actors, tiny and silent, on a shared stage. Perhaps 'distant figures', despite its double-meaning, is more precise.