* DETAILS
While our recommended frame color and border or bleed choice is what we feel best complements the art and vision of the artist, by all means, choose a look that best complements your style and space.
Paper Size: Is based on Full Bleed and adding a border will change the aspect ratio, so paper size may adjust slightly smaller.
Glazing: To eliminate reflective glare, our biggest work (70″ to 80″ on the long side) is protected by an archival laminate in lieu of acrylic. Up to 60″ on the long side is protected by UV acrylic.
Border: If the framed image above is showing a white border, then clicking on Full Bleed will not show what full bleed looks like. We only show how a border will look. Your choice will appear on your order. The border on work up to 40″ x 60″ is about 2.5″ and about 3.5″ on our biggest work.
Frame Color: Clicking on Frame Color will not change the color of the frame, but your choice will appear on your order.
Frames: Our frames are custom made from robust solid wood Studio moulding, 2″ deep with a 3/4″ face width and joined at the corners with butterfly joints.
Orientation: Some work can be displayed either horizontal or vertical—should you wish to change orientation, please contact us and we'll place the D-rings accordingly and confirm via email.
We print exclusively on Hahnemühle 100% Cotton Photo Rag Baryta paper and museum shadowbox frame in solid wood, Studio moulding handcrafted in a robust, contemporary profile preferred by galleries and museums worldwide.
Ask us should you need help or clarification. And please double check your (c)art to ensure your choices are correct.
Free Shipping to the US. Contact us for global shipping options.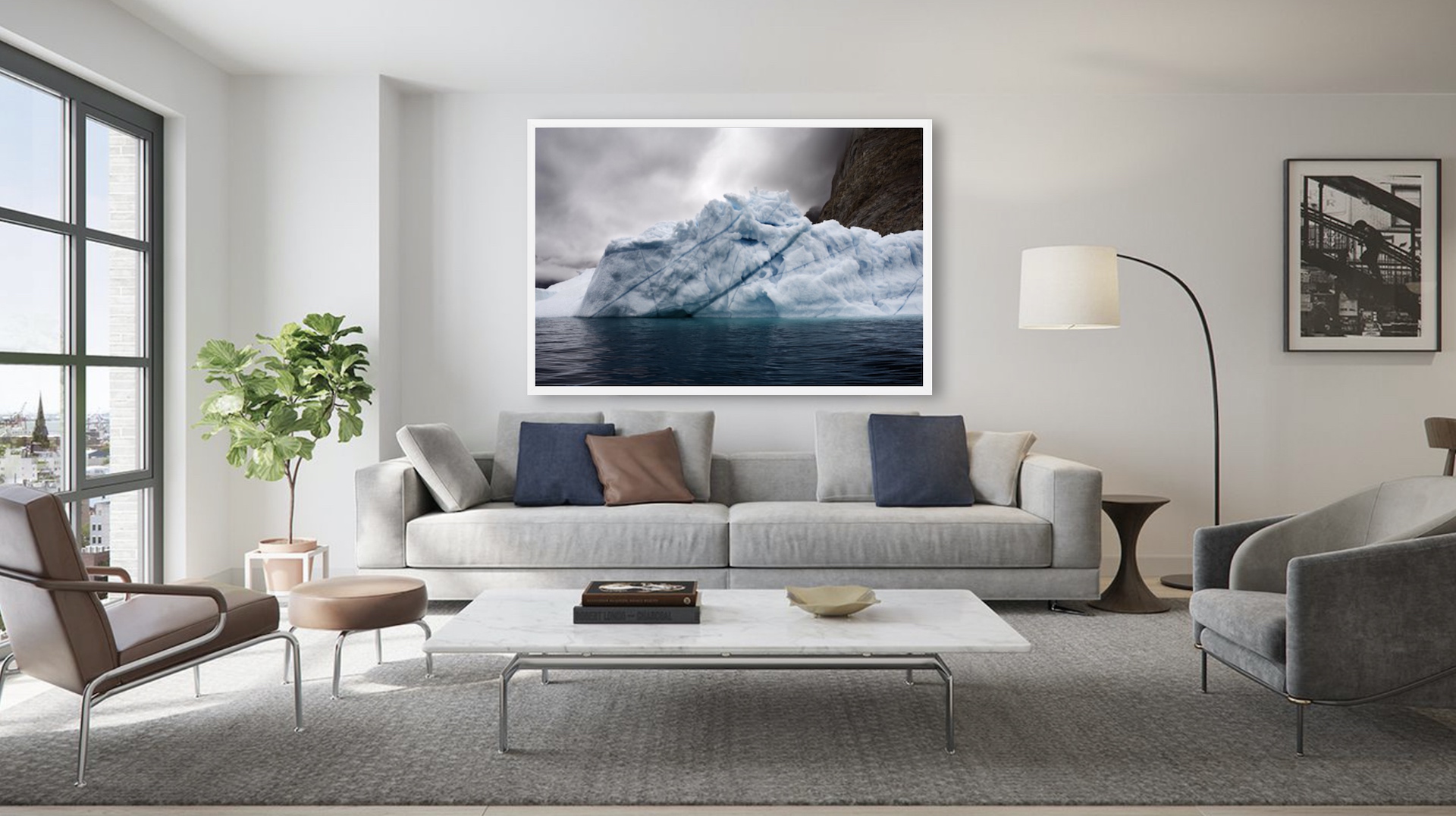 The Last Iceberg is one piece of a larger project entitled "Melting Away" which documents the polar regions of our planet, their environments, life forms, history of human exploration and the communities that work and live there.
Nick Cave once sang, "All things move toward their end." Icebergs give the impression of doing just that, in their individual way much as humans do; they have been created of unique conditions and shaped by their environments to live a brief life in a manner solely their own. Some go the distance traveling for many years slowly being eroded by time and the elements; others get snagged on the rocks and are whittled away by persistent currents. Still others dramatically collapse in fits of passion and fury. The Last Iceberg chronicles just a handful of the many thousands of icebergs that are currently headed to their end. I approach the images of icebergs as portraits of individuals, much like family photos of my ancestors. I seek a moment in their life in which they convey their unique personality, some connection to our own experience and a glimpse of their soul which endures.
Camille Seaman is perhaps one of the most prolific artists working in the documentary/fine art tradition, studying under masters of the craft — Jan Groover, Steve McCurry, Sebastiao Salgado and Paul Fusco. Her photographs have been published in National Geographic Magazine, Italian and German GEO, TIME, The New York Times Sunday Magazine, Newsweek, Outside, Zeit Wissen, Men's Journal, Seed, Camera Arts, Issues, PDN and American Photo among many others.
Camille is a TED Senior Fellow, a Stanford Knight Fellow and in 2008 she was honored with a one-person exhibition, "The Last Iceberg" at the National Academy of Sciences in Washington, DC. Her most recent book Melting Away A Ten-Year Journey through Our Endangered Polar Regions is available now.