* DETAILS
While our recommended frame color and border or bleed choice is what we feel best complements the art and vision of the artist, by all means, choose a look that best complements your style and space.
Paper Size: Is based on Full Bleed and adding a border will change the aspect ratio, so paper size may adjust slightly smaller.
Glazing: To eliminate reflective glare, our biggest work (70″ to 80″ on the long side) is protected by an archival laminate in lieu of acrylic. Up to 60″ on the long side is protected by UV acrylic.
Border: If the framed image above is showing a white border, then clicking on Full Bleed will not show what full bleed looks like. We only show how a border will look. Your choice will appear on your order. The border on work up to 40″ x 60″ is about 2.5″ and about 3.5″ on our biggest work.
Frame Color: Clicking on Frame Color will not change the color of the frame, but your choice will appear on your order.
Frames: Our frames are custom made from robust solid wood Studio moulding, 2″ deep with a 3/4″ face width and joined at the corners with butterfly joints.
Orientation: Some work can be displayed either horizontal or vertical—should you wish to change orientation, please contact us and we'll place the D-rings accordingly and confirm via email.
We print exclusively on Hahnemühle 100% Cotton Photo Rag Baryta paper and museum shadowbox frame in solid wood, Studio moulding handcrafted in a robust, contemporary profile preferred by galleries and museums worldwide.
Ask us should you need help or clarification. And please double check your (c)art to ensure your choices are correct.
Free Shipping to the US. Contact us for global shipping options.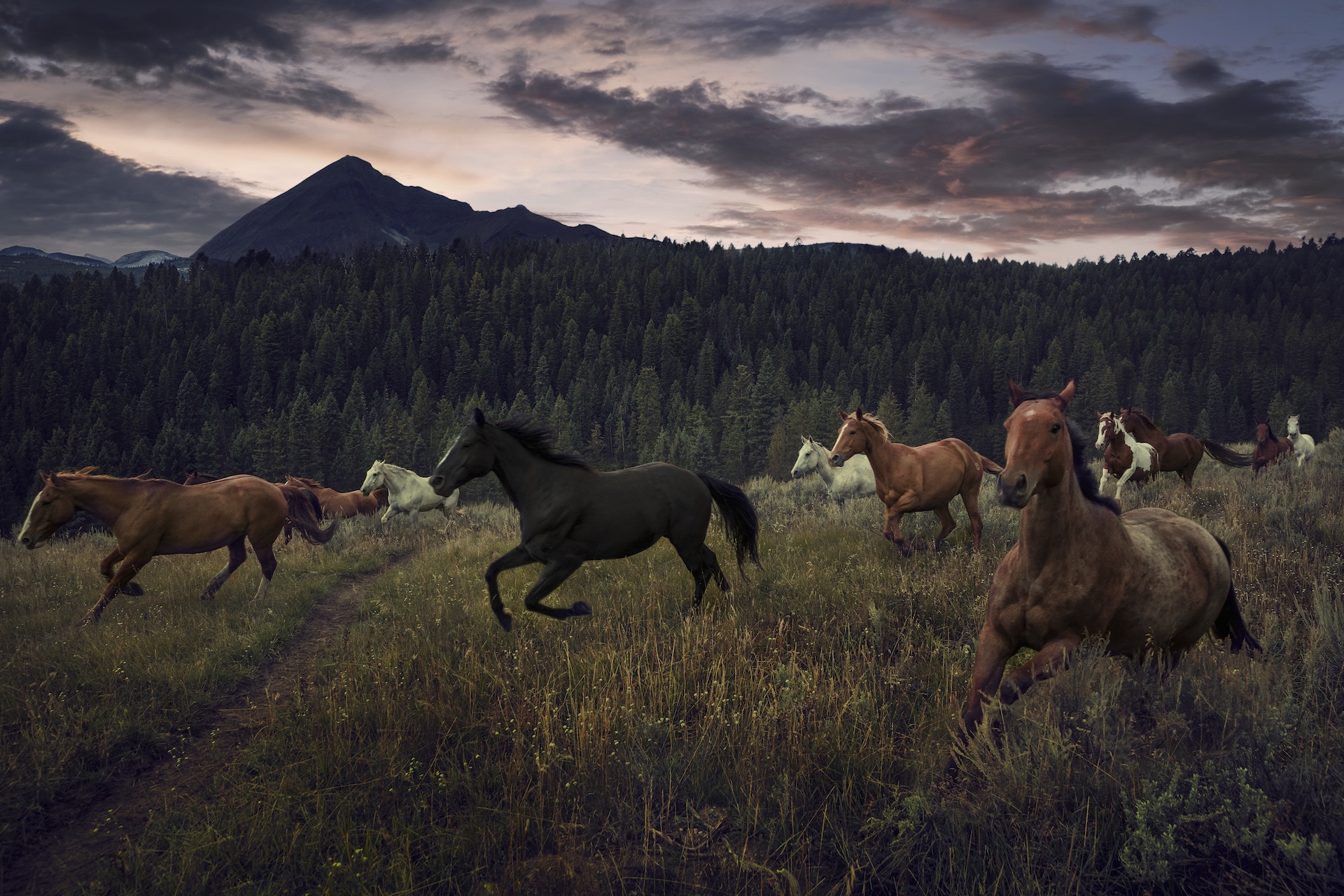 Just outside of Big Sky, Montana and first homesteaded in 1915, the historic Lone Mountain Ranch sits at an elevation of 6,700′. A few times a week the horses move from their staging paddock to and from the high country. This transition creates a unique moment where the horses are racing together up a large hill to wide open grassland where they can move freely and graze. Working with some of the ranchers I was able to find a spot atop the hill where I would have just a few seconds to capture the majesty and grace of these beautiful animals.
Chris Crisman is an internationally recognized commercial photographer. He was born and raised in Titusville, Pennsylvania, the town that gave birth to the oil industry in America. Chris is a graduate of the University of Pennsylvania in Philadelphia. His work has been recognized by prestigious trade organizations such as Luerzers Archive, Communication Arts, American Photography, Photo District News, Graphis, and the International Photography Awards. His commercial clients include Pearl Vision, American Standard, Shell Oil, Virgin Galactic, AOL, Wells Fargo, Schwab, Belkin, Yamaha, Salesforce, Infiniti, Red Bull, Minute Maid, Cirque du Soleil, Pfizer, Merck, Novartis, Novo Nordisk, Heidelberg, Costco, and Allstate. He has photographed celebrities including Kevin Spacey, Richard Branson, Sebastian Vettel, Jane Goodall, and Al Gore.