Anchor Chain Paid Out, Chittagong, Bangladesh
* DETAILS
While our recommended frame color and border or bleed choice is what we feel best complements the art and vision of the artist, by all means, choose a look that best complements your style and space.
Paper Size: Is based on Full Bleed and adding a border will change the aspect ratio, so paper size may adjust slightly smaller.
Glazing: To eliminate reflective glare, our biggest work (70″ to 80″ on the long side) is protected by an archival laminate in lieu of acrylic. Up to 60″ on the long side is protected by UV acrylic.
Border: If the framed image above is showing a white border, then clicking on Full Bleed will not show what full bleed looks like. We only show how a border will look. Your choice will appear on your order. The border on work up to 40″ x 60″ is about 2.5″ and about 3.5″ on our biggest work.
Frame Color: Clicking on Frame Color will not change the color of the frame, but your choice will appear on your order.
Frames: Our frames are custom made from robust solid wood Studio moulding, 2″ deep with a 3/4″ face width and joined at the corners with butterfly joints.
Orientation: Some work can be displayed either horizontal or vertical—should you wish to change orientation, please contact us and we'll place the D-rings accordingly and confirm via email.
We print exclusively on Hahnemühle 100% Cotton Photo Rag Baryta paper and museum shadowbox frame in solid wood, Studio moulding handcrafted in a robust, contemporary profile preferred by galleries and museums worldwide.
Ask us should you need help or clarification. And please double check your (c)art to ensure your choices are correct.
Free Shipping to the US. Contact us for global shipping options.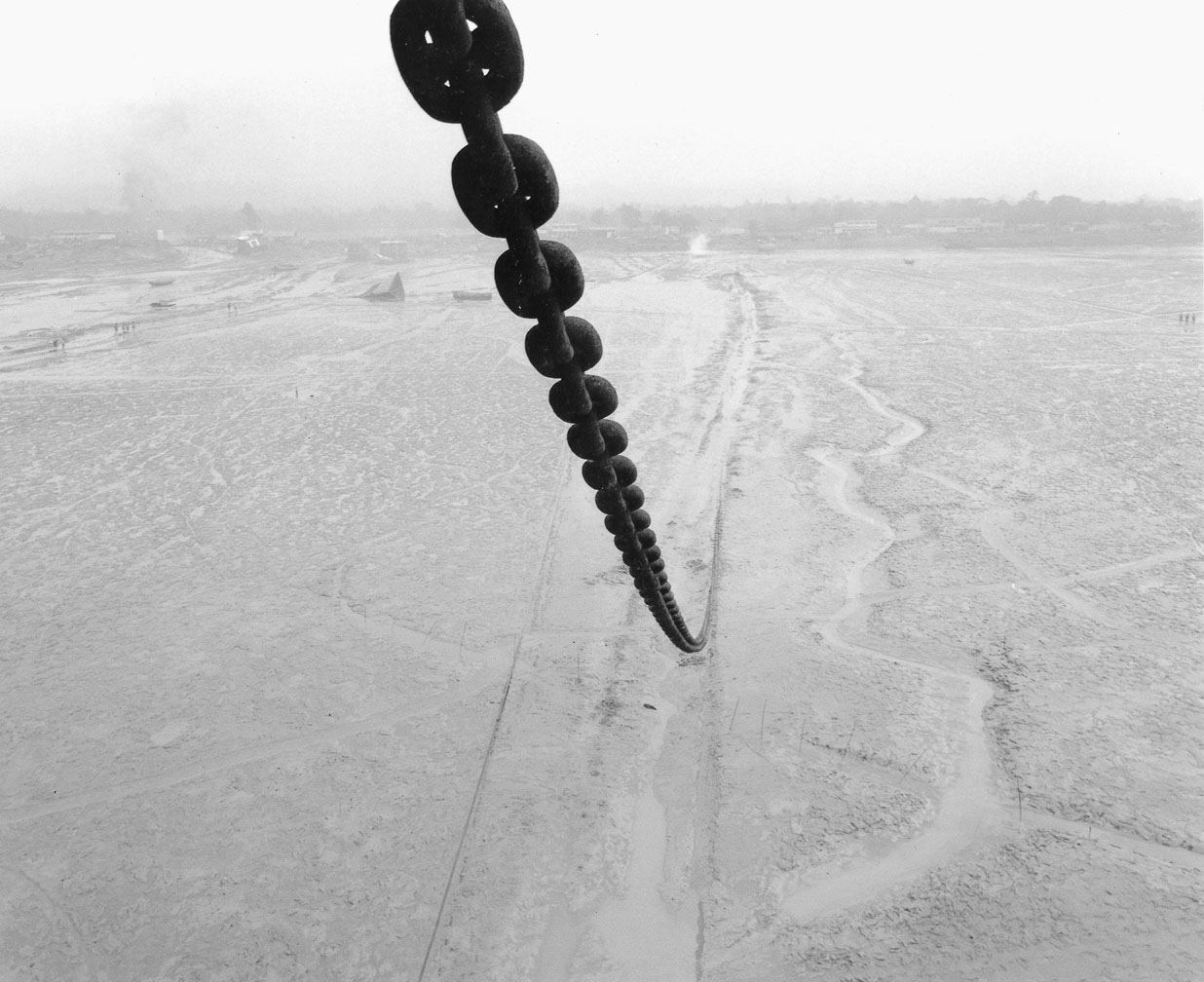 I made this photograph the first time I saw my ship after it had beached, an emotional moment. I had only been with the ship for a few months, on its last voyage from the US to Bangladesh, but that was enough to become quite attached to her. Now, she was completely still and cold. All that history of work and movement was coming undone as the shipbreakers began to strip and hammer away and cut at various places throughout the ship. One of the first cuts was an opening in the bow below deck. When I leaned out, I was surprised to see the anchor chain rising above me (not what you usually see). Against this flat gray background of mud and fog, it all felt otherworldly, eerily transcendent, a kind of Jacob's Ladder to an unknown world.
I went into the ship every day. The shipbreakers had extended the gangway as far down as they could, then attached the rope ladders to that for people to climb up. This is the normal arrangement for accepting passengers when you're at sea, mainly the pilots who board the ship to take her in to port. Here there was an added distance, though, as the climb began from the bottom of the hull, not the waterline several meters higher. It was about 40-50 feet in all. The ladder was muddy and slippery. I wondered how the rope ladder was faring in the sun and sea air, day after day, especially when someone would clamber past me on the outside of the rungs! One such ladder broke on a vessel, killing the man who was climbing it. But I tried not thinking about that, and just muttered curses or something resembling a prayer every time I went up or down.