* DETAILS
While our recommended frame color and border or bleed choice is what we feel best complements the art and vision of the artist, by all means, choose a look that best complements your style and space.
Paper Size: Is based on Full Bleed and adding a border will change the aspect ratio, so paper size may adjust slightly smaller.
Glazing: To eliminate reflective glare, our biggest work (70″ to 80″ on the long side) is protected by an archival laminate in lieu of acrylic. Up to 60″ on the long side is protected by UV acrylic.
Border: If the framed image above is showing a white border, then clicking on Full Bleed will not show what full bleed looks like. We only show how a border will look. Your choice will appear on your order. The border on work up to 40″ x 60″ is about 2.5″ and about 3.5″ on our biggest work.
Frame Color: Clicking on Frame Color will not change the color of the frame, but your choice will appear on your order.
Frames: Our frames are custom made from robust solid wood Studio moulding, 2″ deep with a 3/4″ face width and joined at the corners with butterfly joints.
Orientation: Some work can be displayed either horizontal or vertical—should you wish to change orientation, please contact us and we'll place the D-rings accordingly and confirm via email.
We print exclusively on Hahnemühle 100% Cotton Photo Rag Baryta paper and museum shadowbox frame in solid wood, Studio moulding handcrafted in a robust, contemporary profile preferred by galleries and museums worldwide.
Ask us should you need help or clarification. And please double check your (c)art to ensure your choices are correct.
Free Shipping to the US. Contact us for global shipping options.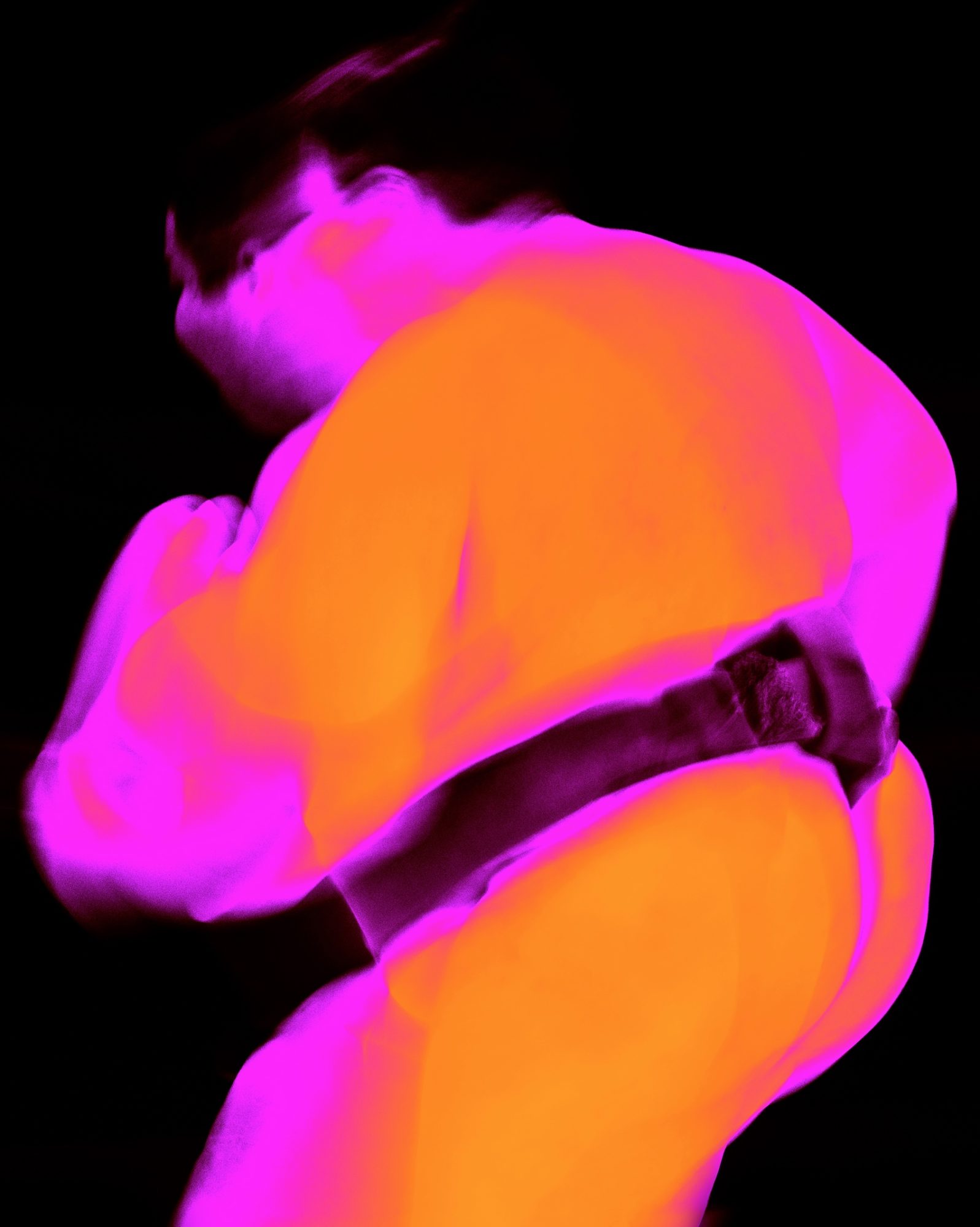 In my work, I've always been drawn to pageantry in all its forms, unique juxtapositions of color, and to visually exploring our cultural relationship to nostalgia. So, one night in March of this year, when I arrived at a theater on Broadway in New York City with the notion of photographing Sumo world champions as they performed a special exhibition for an uninitiated American audience (myself included), I really didn't know what to expect. I was surprised to find that while I didn't really understand the competitive aspects, I found myself mesmerized by the fluid, unconventional forms and movement showcased in this ancient Japanese spectacle, a ritual that is thousands of years old, and I tried to find a way to present it with a modern point of view. I watched them from my vantage point in dark corners in the theater as they posed for fan photos, went through their exercises, and then prepared for battle in the sumo ring, or dohyō. They spoke little English, and I spoke no Japanese, so I tried to approach their world and experience from an entirely visual standpoint, removing in my mind all of the context of combat or sport. As they acted out the same motions and traditions as they may have for their entire lives, I followed their movements and was inspired by the purity of the shapes and the spatial relationships of the bodies and gradually found myself getting more and more playful with the use of color and light.