* DETAILS
While our recommended frame color and border or bleed choice is what we feel best complements the art and vision of the artist, by all means, choose a look that best complements your style and space.
Paper Size: Is based on Full Bleed and adding a border will change the aspect ratio, so paper size may adjust slightly smaller.
Glazing: To eliminate reflective glare, our biggest work (70″ to 80″ on the long side) is protected by an archival laminate in lieu of acrylic. Up to 60″ on the long side is protected by UV acrylic.
Border: If the framed image above is showing a white border, then clicking on Full Bleed will not show what full bleed looks like. We only show how a border will look. Your choice will appear on your order. The border on work up to 40″ x 60″ is about 2.5″ and about 3.5″ on our biggest work.
Frame Color: Clicking on Frame Color will not change the color of the frame, but your choice will appear on your order.
Frames: Our frames are custom made from robust solid wood Studio moulding, 2″ deep with a 3/4″ face width and joined at the corners with butterfly joints.
Orientation: Some work can be displayed either horizontal or vertical—should you wish to change orientation, please contact us and we'll place the D-rings accordingly and confirm via email.
We print exclusively on Hahnemühle 100% Cotton Photo Rag Baryta paper and museum shadowbox frame in solid wood, Studio moulding handcrafted in a robust, contemporary profile preferred by galleries and museums worldwide.
Ask us should you need help or clarification. And please double check your (c)art to ensure your choices are correct.
Free Shipping to the US. Contact us for global shipping options.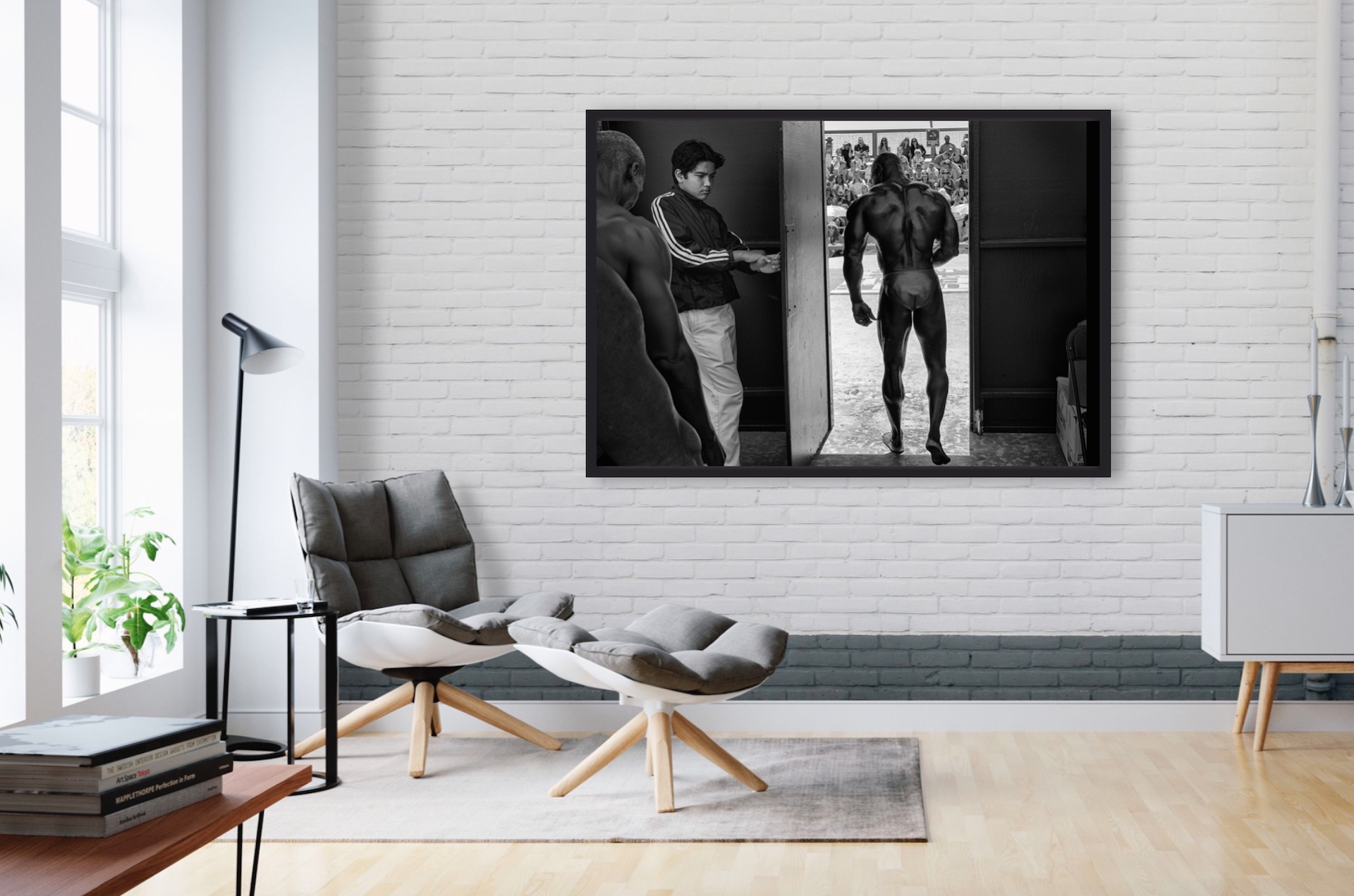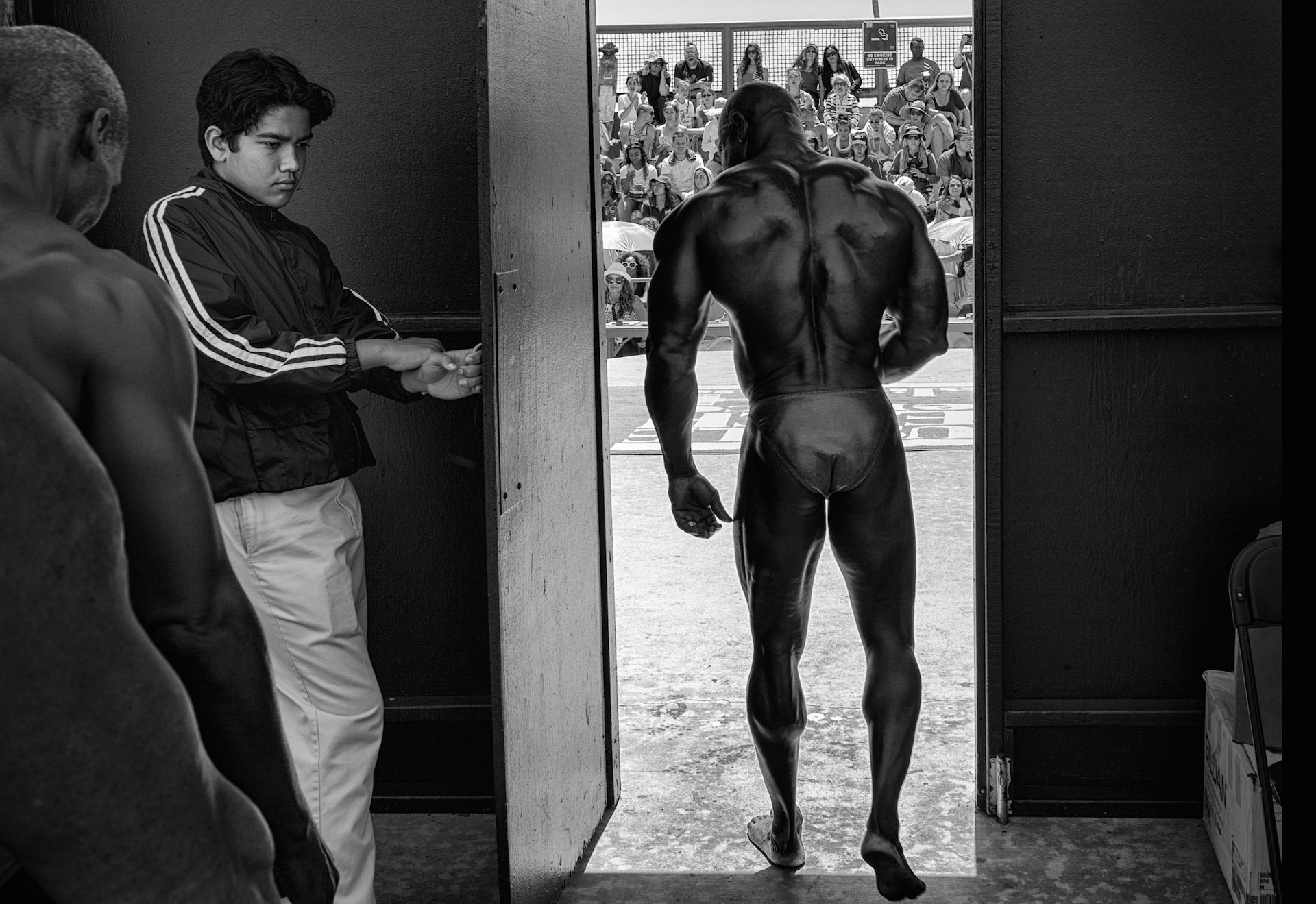 Every 4th of July an iconic bodybuilding competition takes place on Muscle Beach. On that day the historic birthplace of the worldwide fitness movement and home to Arnold Schwarzenneger's humble beginnings turns into a stage that massive contestants enter one by one like gladiators to the delight of the assembled crowd.
Dotan Saguy was born in a small kibbutz five miles south of Israel's Lebanese border. He grew-up in a diverse working class Parisian suburb, lived in Lower Manhattan during 9/11 and moved to Los Angeles in 2003. Dotan's work has been published by National Geographic, PDN, Leica Fotografie International, ABC News, has been exhibited in several galleries across Los Angeles and has been awarded 1st place photo story from the nationwide Journalism Association of Community Colleges in 2016 and an honorable mention in the National Geographic Travel Photographer of the Year Award 2016. Dotan is currently working on several ground-breaking long term projects including an in-depth photo essay about the culture of Venice Beach and a photo documentary about the journey of people coming out of homelessness. Dotan lives in West Los Angeles with his wife and two children.