* DETAILS
While our recommended frame color and border or bleed choice is what we feel best complements the art and vision of the artist, by all means, choose a look that best complements your style and space.
Paper Size: Is based on Full Bleed and adding a border will change the aspect ratio, so paper size may adjust slightly smaller.
Glazing: To eliminate reflective glare, our biggest work (70″ to 80″ on the long side) is protected by an archival laminate in lieu of acrylic. Up to 60″ on the long side is protected by UV acrylic.
Border: If the framed image above is showing a white border, then clicking on Full Bleed will not show what full bleed looks like. We only show how a border will look. Your choice will appear on your order. The border on work up to 40″ x 60″ is about 2.5″ and about 3.5″ on our biggest work.
Frame Color: Clicking on Frame Color will not change the color of the frame, but your choice will appear on your order.
Frames: Our frames are custom made from robust solid wood Studio moulding, 2″ deep with a 3/4″ face width and joined at the corners with butterfly joints.
Orientation: Some work can be displayed either horizontal or vertical—should you wish to change orientation, please contact us and we'll place the D-rings accordingly and confirm via email.
We print exclusively on Hahnemühle 100% Cotton Photo Rag Baryta paper and museum shadowbox frame in solid wood, Studio moulding handcrafted in a robust, contemporary profile preferred by galleries and museums worldwide.
Ask us should you need help or clarification. And please double check your (c)art to ensure your choices are correct.
Free Shipping to the US. Contact us for global shipping options.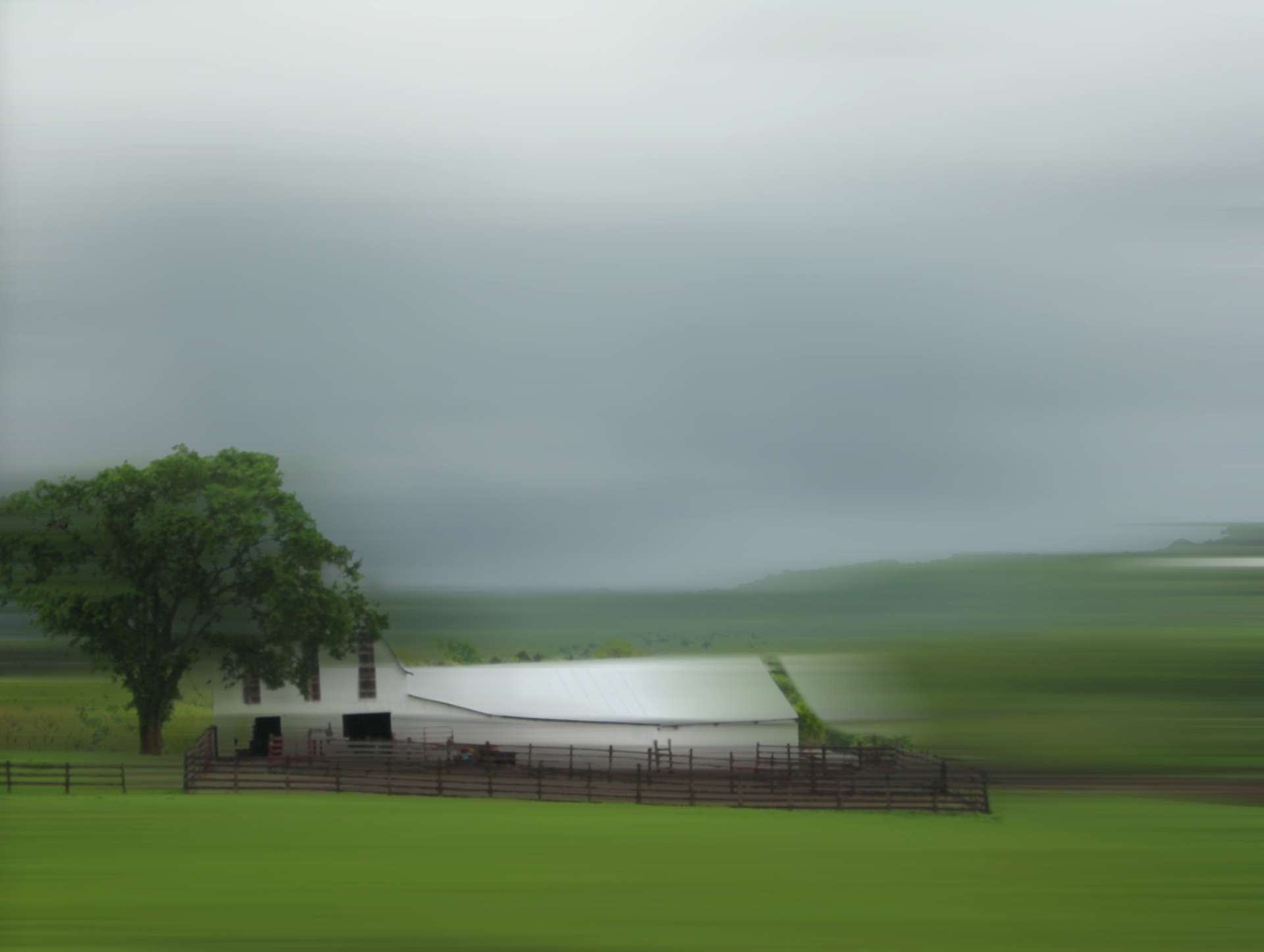 Road trips are the thing of legends. Documenting road trips has become cliché. Think of all of those Route 66 photos; abandoned gas stations, derelict cars at the side of the road, ordinary "folks" sipping malts through a straw at the local drugstore. Porches with swings, empty porches, clothes lines with dancing frocks, an abandoned toy tractor overturned in a scrappy yard. American flags everywhere, a few Confederate ones in certain locales. BBQ stands with folks lined up, spilling out onto the street, old movie marquees displaying "Easy Rider". This is the "real" America, the authentic as depicted in so many photographs. The freeways, the Interstates are cold and without heart, bypassing all of those small towns helping to turn downtowns into ghost towns as Pilot's, and Flying J's sprout at exits to convey gasoline, diesel, soda/chips/coffee. Now bananas are making an appearance as homage to "fresh and natural."
But the freeways/Interstates transverse spectacular scenery, much of it void of towns and car dealerships. There are farmhouses and barns, often at quite a distance and cows, but mostly open, native America to be glimpsed between the billboards announcing the next exit's offerings. This is the America I am sharing through my photo-bases images taken from a moving car's passenger window. This photo is from a road trip from the Midwest to California and back. As a passenger I was able to shoot out of the side window while speeding along. Each piece is titled with its time, date and state.