* DETAILS
While our recommended frame color and border or bleed choice is what we feel best complements the art and vision of the artist, by all means, choose a look that best complements your style and space.
Paper Size: Is based on Full Bleed and adding a border will change the aspect ratio, so paper size may adjust slightly smaller.
Glazing: To eliminate reflective glare, our biggest work (70″ to 80″ on the long side) is protected by an archival laminate in lieu of acrylic. Up to 60″ on the long side is protected by UV acrylic.
Border: If the framed image above is showing a white border, then clicking on Full Bleed will not show what full bleed looks like. We only show how a border will look. Your choice will appear on your order. The border on work up to 40″ x 60″ is about 2.5″ and about 3.5″ on our biggest work.
Frame Color: Clicking on Frame Color will not change the color of the frame, but your choice will appear on your order.
Frames: Our frames are custom made from robust solid wood Studio moulding, 2″ deep with a 3/4″ face width and joined at the corners with butterfly joints.
Orientation: Some work can be displayed either horizontal or vertical—should you wish to change orientation, please contact us and we'll place the D-rings accordingly and confirm via email.
We print exclusively on Hahnemühle 100% Cotton Photo Rag Baryta paper and museum shadowbox frame in solid wood, Studio moulding handcrafted in a robust, contemporary profile preferred by galleries and museums worldwide.
Ask us should you need help or clarification. And please double check your (c)art to ensure your choices are correct.
Free Shipping to the US. Contact us for global shipping options.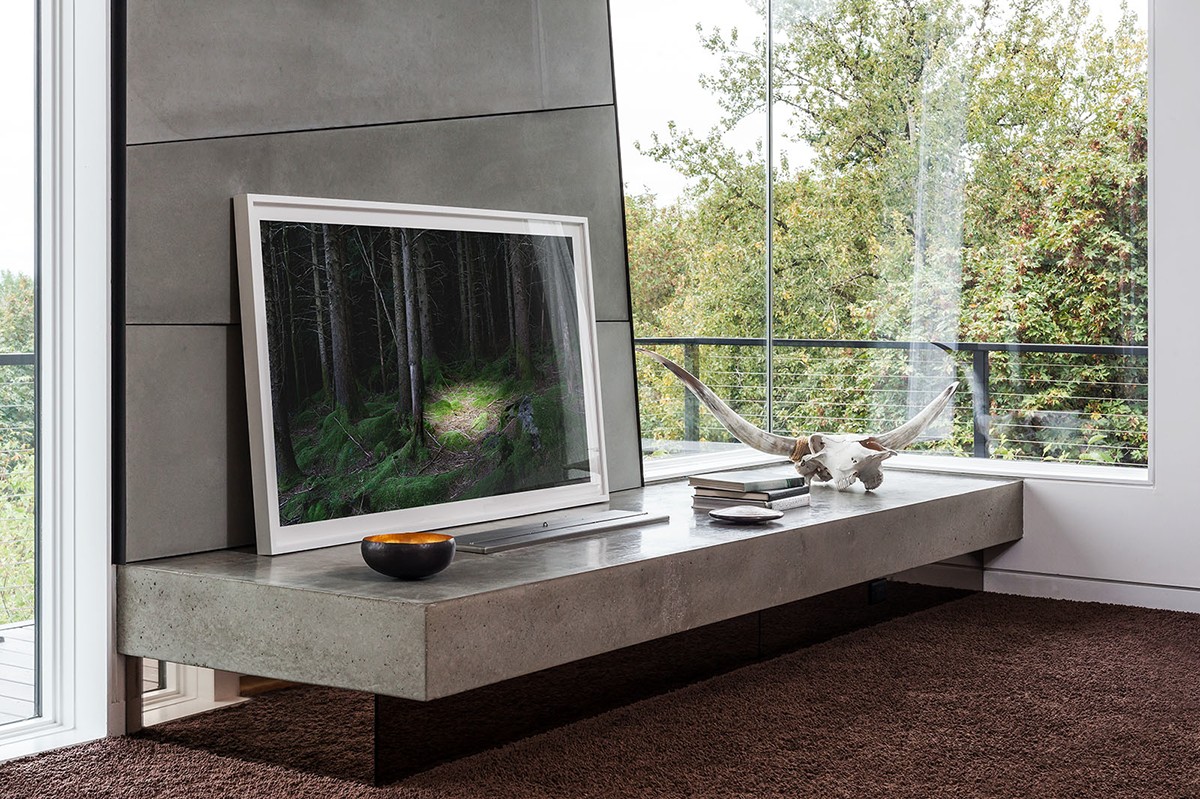 Our understanding of landscape can be seen as a construction in which layers of meaning that reflect our own cultural preoccupations and anxieties obscure the reality of the land, veiling it, and transforming the natural world into an idealisation.
UK forests have been shaped by human processes over thousands of years and include ancient woodlands, timber forestry, wildlife reserves and protected Areas of Outstanding Natural. As such, the forest represents the confluence of nature, culture, and human activity. Forests are potent symbols in folklore, fairy tale and myth, places of enchantment and magic as well as of danger and mystery. In more recent history they have come to be associated with psychological states relating to the unconscious.
Against this backdrop, my work explores the ways in which identity is formed by the landscapes we live and grow up in. Making a variety of temporary and non-invasive interventions in the forest, my work places the viewer in the gap between reality and fantasy, creating spaces which encourage the viewer to re-evaluate the way in which their own relationship with the landscape is formed, the extent to which it is a product of cultural heritage or personal experience, and how this has been instrumental in their own identity.
Throughout my practice small acts of engagement respond to the landscape using a variety of strategies, such as making and building, creating pools of light, suspending smoke within the space, or using craft materials such as paint and pigment. The final images are the culmination of these interventions. The forest becomes a studio, forming a backdrop to contextualize the work, so that each piece draws on its location, a golden tree introduced into a thicket shimmers in the darkness, painted paths snake through the undergrowth, and strands of wool are woven between trees mirroring colours and formal elements within the space.
These altered landscapes operate on a number of levels. They are a reflection of my personal relationship with the forest, a meditation on universal themes relating to the psyche and call into question the concept of landscape as a social and cultural construct. Most importantly they draw the viewer into the forest space, asking the them to consider how their own identity is shaped by the landscapes they live in.