Walking Man, Versailles, France (From the "Labyrinth" series)
* DETAILS
While our recommended frame color and border or bleed choice is what we feel best complements the art and vision of the artist, by all means, choose a look that best complements your style and space.
Paper Size: Is based on Full Bleed and adding a border will change the aspect ratio, so paper size may adjust slightly smaller.
Glazing: To eliminate reflective glare, our biggest work (70″ to 80″ on the long side) is protected by an archival laminate in lieu of acrylic. Up to 60″ on the long side is protected by UV acrylic.
Border: If the framed image above is showing a white border, then clicking on Full Bleed will not show what full bleed looks like. We only show how a border will look. Your choice will appear on your order. The border on work up to 40″ x 60″ is about 2.5″ and about 3.5″ on our biggest work.
Frame Color: Clicking on Frame Color will not change the color of the frame, but your choice will appear on your order.
Frames: Our frames are custom made from robust solid wood Studio moulding, 2″ deep with a 3/4″ face width and joined at the corners with butterfly joints.
Orientation: Some work can be displayed either horizontal or vertical—should you wish to change orientation, please contact us and we'll place the D-rings accordingly and confirm via email.
We print exclusively on Hahnemühle 100% Cotton Photo Rag Baryta paper and museum shadowbox frame in solid wood, Studio moulding handcrafted in a robust, contemporary profile preferred by galleries and museums worldwide.
Ask us should you need help or clarification. And please double check your (c)art to ensure your choices are correct.
Free Shipping to the US. Contact us for global shipping options.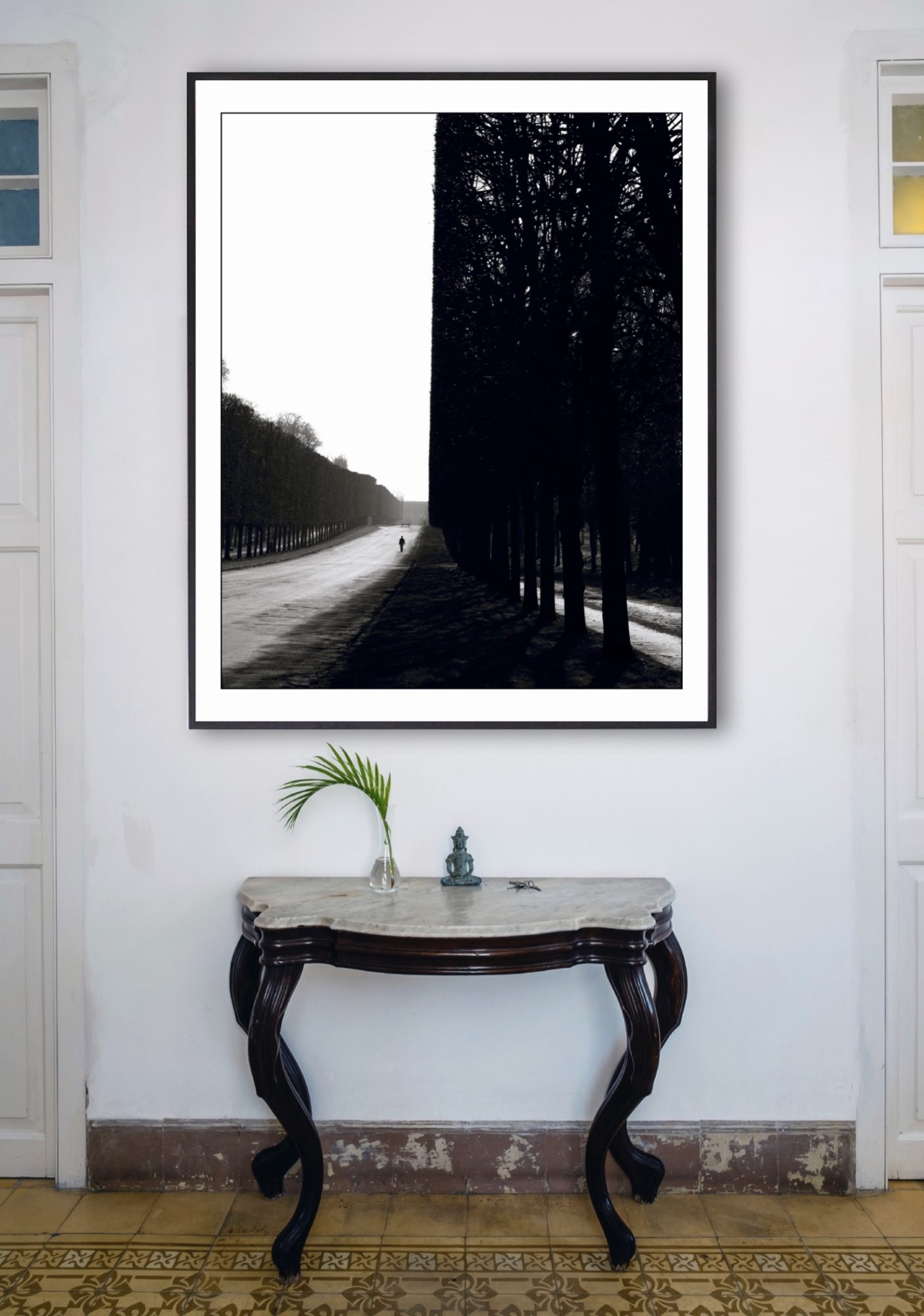 "The picture is a real shot (not a montage). Cartier Bresson would have called it: "a decisive moment" I had to wait for hours to get the picture right when I worked in Versailles near Paris, France, for a week's time in 2004. The idea was to capture solely the architecture of the cropped trees when all of a sudden the man in black stepped into the frame. A lovely coincidence."
Excerpt from the essay The Incidental Landscape by Gary Michael Dault written for Prefix Magazine:
Having assumed a photographic stance and point of view that seemed quite deliberately to echo that of the awed and humbled first-time visitor to a city made of skyscrapers, Klemm shot the geometricized vegetation from below so that, for example, in the Schwetzinger Castle gardens, he was able to show its trees, now carved into pillars, as lacy lifting structures isolated—so we can read their new function as faux-piers—against the weight of the lowering skies. In another spectacularly telling view of Versailles, a tiny pedestrian makes his way along a pearlescent, light-filled roadway that just fronts a stupendously bulwark-like screen of brutally snipped, knife-edged trees—a leafy yet strictured construct so vast, black, dense and impenetrable it now looks like a bulky office building: Versailles manicured into New York.