Das Versprechen (The Promise), 2016
* DETAILS
While our recommended frame color and border or bleed choice is what we feel best complements the art and vision of the artist, by all means, choose a look that best complements your style and space.
Paper Size: Is based on Full Bleed and adding a border will change the aspect ratio, so paper size may adjust slightly smaller.
Glazing: To eliminate reflective glare, our biggest work (70″ to 80″ on the long side) is protected by an archival laminate in lieu of acrylic. Up to 60″ on the long side is protected by UV acrylic.
Border: If the framed image above is showing a white border, then clicking on Full Bleed will not show what full bleed looks like. We only show how a border will look. Your choice will appear on your order. The border on work up to 40″ x 60″ is about 2.5″ and about 3.5″ on our biggest work.
Frame Color: Clicking on Frame Color will not change the color of the frame, but your choice will appear on your order.
Frames: Our frames are custom made from robust solid wood Studio moulding, 2″ deep with a 3/4″ face width and joined at the corners with butterfly joints.
Orientation: Some work can be displayed either horizontal or vertical—should you wish to change orientation, please contact us and we'll place the D-rings accordingly and confirm via email.
We print exclusively on Hahnemühle 100% Cotton Photo Rag Baryta paper and museum shadowbox frame in solid wood, Studio moulding handcrafted in a robust, contemporary profile preferred by galleries and museums worldwide.
Ask us should you need help or clarification. And please double check your (c)art to ensure your choices are correct.
Free Shipping to the US. Contact us for global shipping options.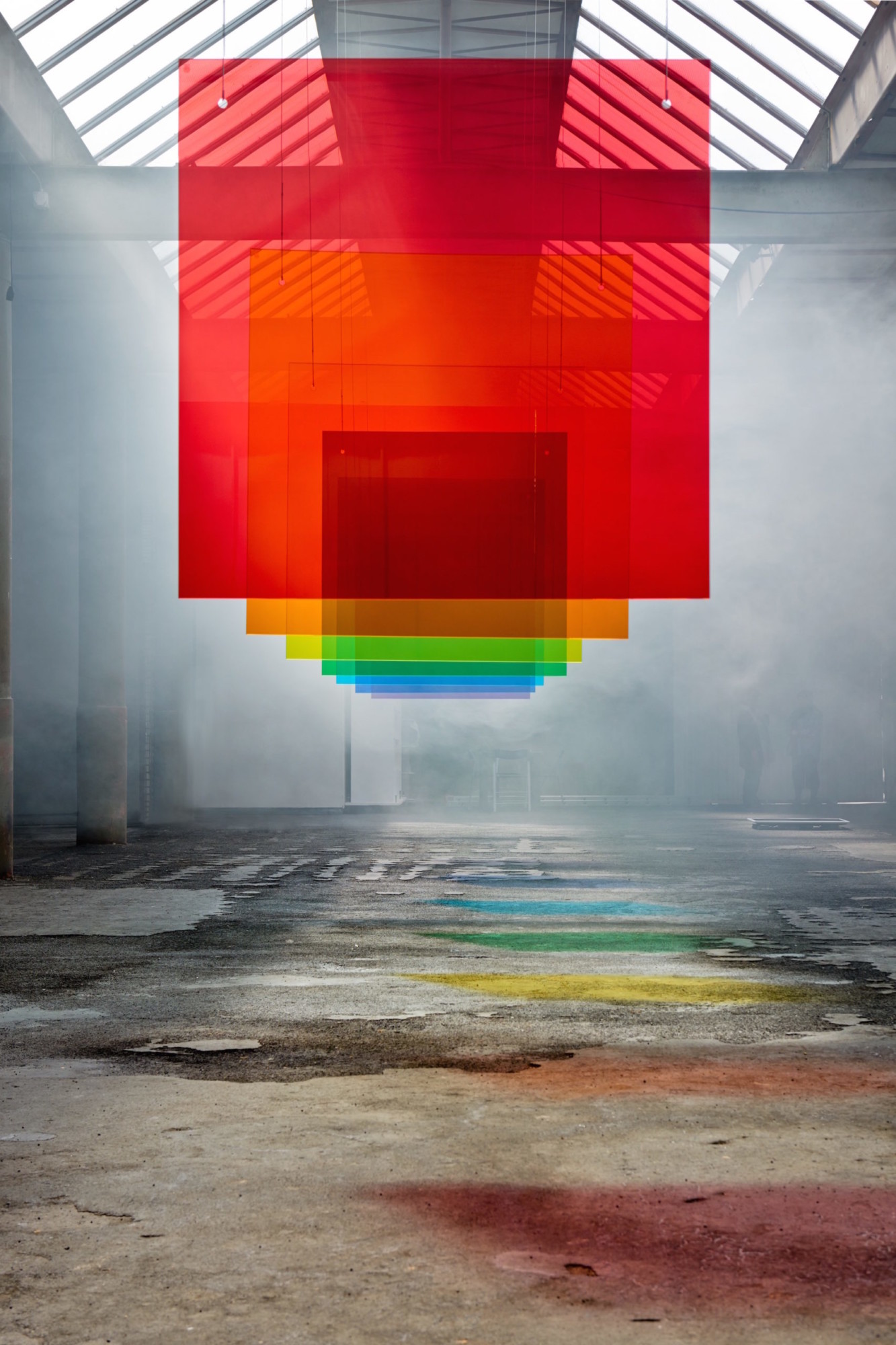 Since they graduated from the University for Design and Art in Zurich (now ZHdK) in 2005, the twin brothers Markus and Reto Huber (*1975 Münsterlingen), have been working together under the label huber.huber.
Industrial glass with color foils, stainless steel cables. Mass: variable per glass plate 120 x 120 cm Installation view Kunsthalle Arbon "promised is promised" 2016 Seven different colored, square glass plates are suspended in the center of the hall in parallel behind the other from the ceiling. Viewed as an ensemble, the colors of The Promise (2016) depict a rainbow – this bewitchingly beautiful natural phenomenon, which has always been considered a symbolic link between heaven and earth in numerous mythologies and religions worldwide. A crucial passage from the Christian Bible was particularly in focus for the eponymous installation of huber.huber's exhibition: God had sent a rainbow to Noah after the Flood in order to affirm his vow that he would never destroy creation holistically. However, the conciliatory symbol of huber.huber now condenses into a "black hole" when one looks into the floating glasses at one end of the row. With this "gloomy view" and against the background of the numerous wars and natural disasters that tirelessly shake the globe, the title of the exhibition suddenly sounds less like fulfillment, but rather a reminder of an eventual higher power that manages the destinies of humanity.