Afghanistan (One day in Helmand)
* DETAILS
While our recommended frame color and border or bleed choice is what we feel best complements the art and vision of the artist, by all means, choose a look that best complements your style and space.
Paper Size: Is based on Full Bleed and adding a border will change the aspect ratio, so paper size may adjust slightly smaller.
Glazing: To eliminate reflective glare, our biggest work (70″ to 80″ on the long side) is protected by an archival laminate in lieu of acrylic. Up to 60″ on the long side is protected by UV acrylic.
Border: If the framed image above is showing a white border, then clicking on Full Bleed will not show what full bleed looks like. We only show how a border will look. Your choice will appear on your order. The border on work up to 40″ x 60″ is about 2.5″ and about 3.5″ on our biggest work.
Frame Color: Clicking on Frame Color will not change the color of the frame, but your choice will appear on your order.
Frames: Our frames are custom made from robust solid wood Studio moulding, 2″ deep with a 3/4″ face width and joined at the corners with butterfly joints.
Orientation: Some work can be displayed either horizontal or vertical—should you wish to change orientation, please contact us and we'll place the D-rings accordingly and confirm via email.
We print exclusively on Hahnemühle 100% Cotton Photo Rag Baryta paper and museum shadowbox frame in solid wood, Studio moulding handcrafted in a robust, contemporary profile preferred by galleries and museums worldwide.
Ask us should you need help or clarification. And please double check your (c)art to ensure your choices are correct.
Free Shipping to the US. Contact us for global shipping options.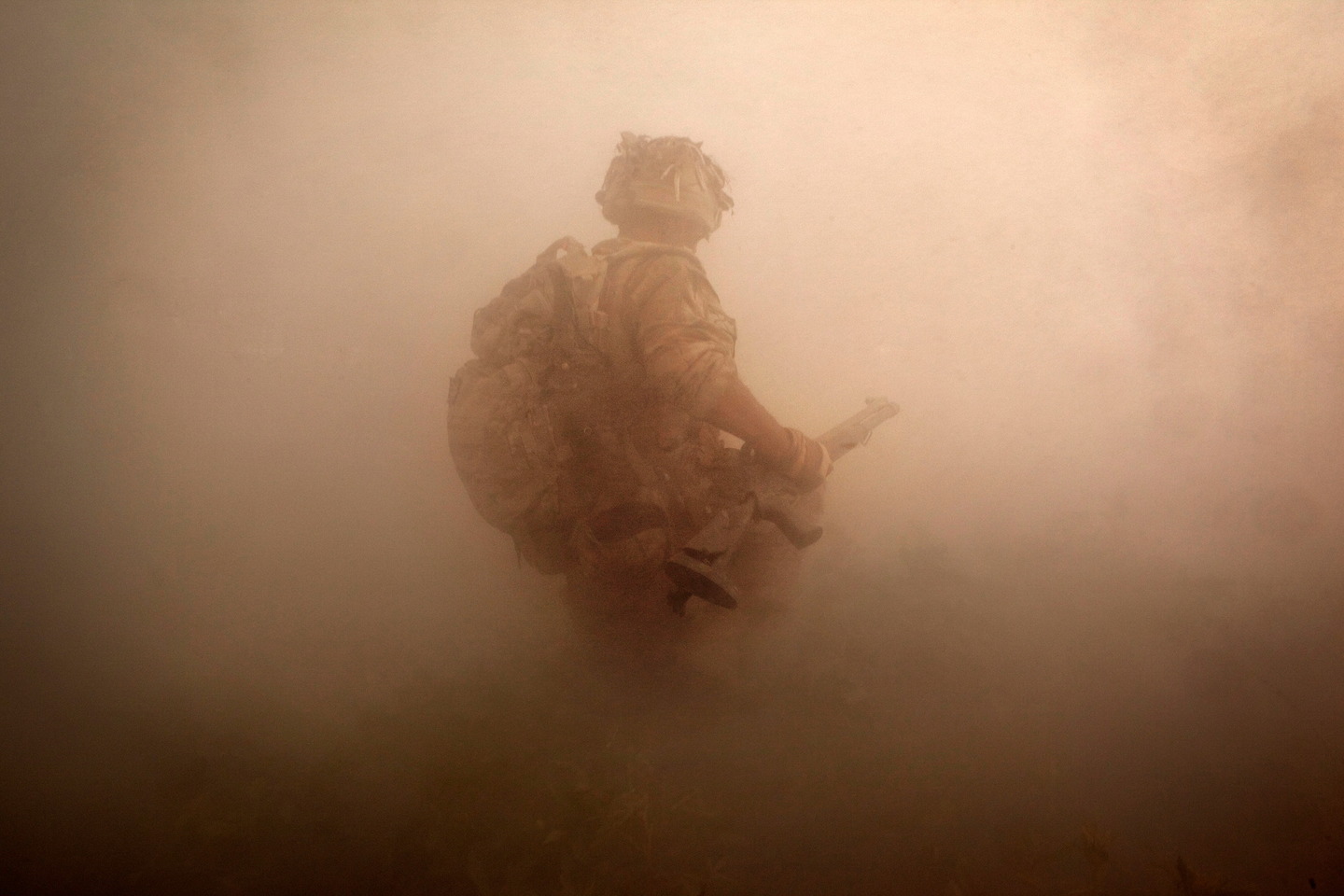 An attachement of Royal Engineers (EOD Specialists) and B (Malta) Company 1st Battalion The Mercian Regiment undertake a 16 hour foot patrol to clear IEDs (improvised explosive devices) around their base. The mission, which is one of the most dangerous tasks undertaken by the troops involved isolating suspected IED sites by blowing through compound walls and creating a cordon whilst the suspect site is examined and any found devices are neutralized. That patrol left the base under the cover of darkness and worked throughout the day in searing temperatures reaching 55C (131F) occasionally exchanging fire with the enemy. At nightfall the patrol returned to base. Nahr-e Saraj, Helmand Province, Afghanistan, 20 August 2010.
In 2012 Jason received Best Picture Essay and Photographer of the Year Awards from the UK Picture Editors Guild for his body of work on the aftermath of an IED explosion in Afghanistan. His images showing a wounded British soldier on the battle field were the first to be published in the UK in nearly 30 years and as a result the British Ministry of Defense banned Jason from working on the frontline due to his unwillingness to allow his work to be censored by them and therefore showing an uncomfortable truth that they have long kept hidden from the public eye.
Jason is the director of Conflict Photography Workshops, an educational course that uses a unique mix of hostile environment and photographic training taught by a team of photojournalists and military advisers with 40 + years of combined front line experience.
www.conflictphotographyworkshops.com
Jason's life and work are the subject of 'HOKA HEY', a film by Harold Monfils scheduled for release in 2015.