* DETAILS
While our recommended frame color and border or bleed choice is what we feel best complements the art and vision of the artist, by all means, choose a look that best complements your style and space.
Paper Size: Is based on Full Bleed and adding a border will change the aspect ratio, so paper size may adjust slightly smaller.
Glazing: To eliminate reflective glare, our biggest work (70″ to 80″ on the long side) is protected by an archival laminate in lieu of acrylic. Up to 60″ on the long side is protected by UV acrylic.
Border: If the framed image above is showing a white border, then clicking on Full Bleed will not show what full bleed looks like. We only show how a border will look. Your choice will appear on your order. The border on work up to 40″ x 60″ is about 2.5″ and about 3.5″ on our biggest work.
Frame Color: Clicking on Frame Color will not change the color of the frame, but your choice will appear on your order.
Frames: Our frames are custom made from robust solid wood Studio moulding, 2″ deep with a 3/4″ face width and joined at the corners with butterfly joints.
Orientation: Some work can be displayed either horizontal or vertical—should you wish to change orientation, please contact us and we'll place the D-rings accordingly and confirm via email.
We print exclusively on Hahnemühle 100% Cotton Photo Rag Baryta paper and museum shadowbox frame in solid wood, Studio moulding handcrafted in a robust, contemporary profile preferred by galleries and museums worldwide.
Ask us should you need help or clarification. And please double check your (c)art to ensure your choices are correct.
Free Shipping to the US. Contact us for global shipping options.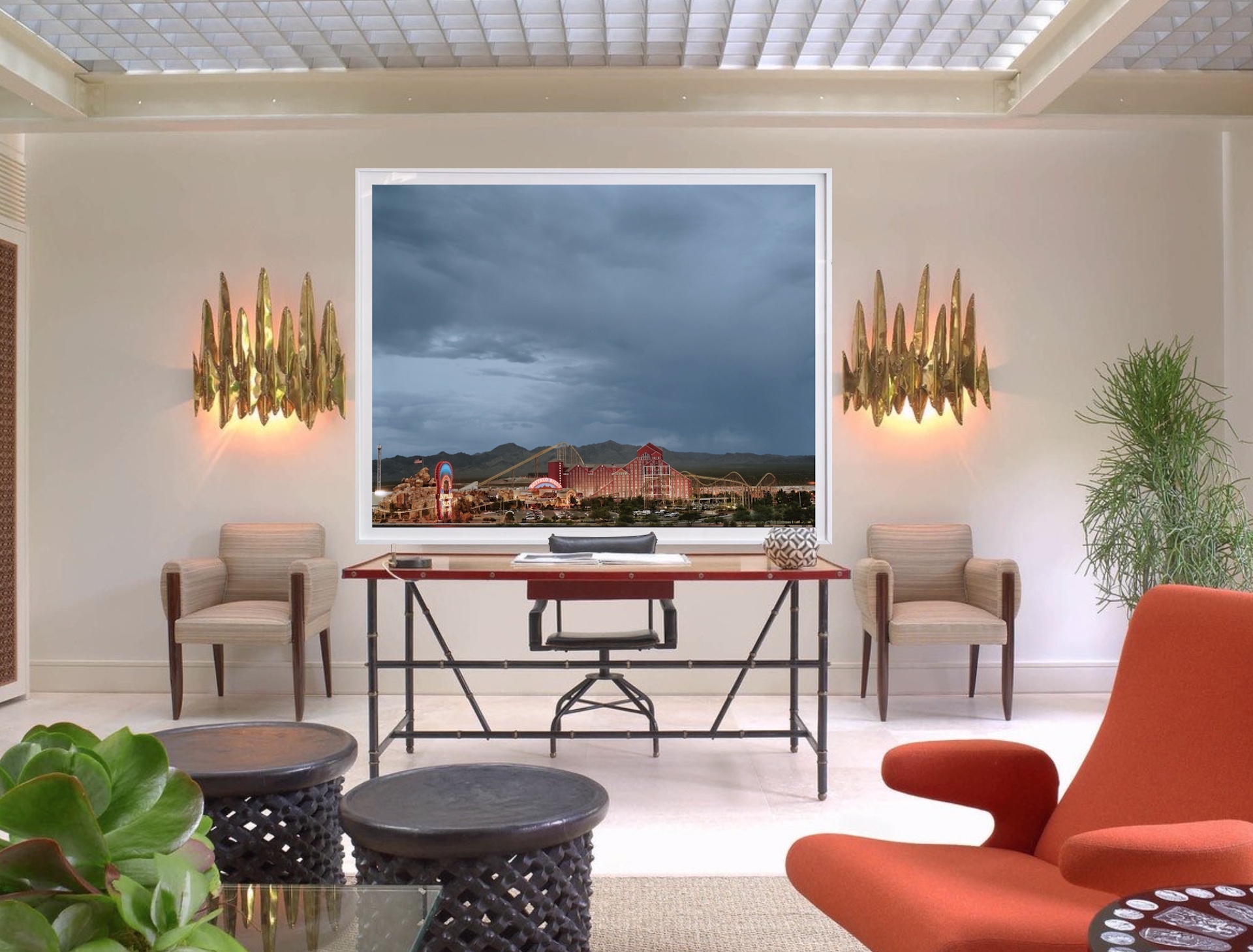 Primm is the first stop as you cross into Nevada along I-15 from California. It offers overpriced gas, discount cigarettes, and trucker's stuff. It's also the first opportunity to gamble and Buffalo Bill's lures them all with it's fancy sign and indoor/outdoor roller coaster. I haven't been inside, but I imagine it cruises right past the craps tables, op and over the prime rib buffet, before doing a loop-de-loo through the penny slots. To get this view on it, I scaled a rocky slope while a storm blew in. It was a bit hairy with wind and lightning and all, but I knew it would make for a picture imbued with cheap romance, speaking to myths of the American West. This picture is part of a greater series of landscapes and portraits, called "Fool's Gold." Over the course of several years, I assumed the role of a modern-day prospector surveying the landscape for photographic possibility. The photograph, which is traditionally comprised of silvery emulsion, becomes an analogy for those who sought fortunes in this place generations back. The photograph is a simple replica of our precious past.