* DETAILS
While our recommended frame color and border or bleed choice is what we feel best complements the art and vision of the artist, by all means, choose a look that best complements your style and space.
Paper Size: Is based on Full Bleed and adding a border will change the aspect ratio, so paper size may adjust slightly smaller.
Glazing: To eliminate reflective glare, our biggest work (70″ to 80″ on the long side) is protected by an archival laminate in lieu of acrylic. Up to 60″ on the long side is protected by UV acrylic.
Border: If the framed image above is showing a white border, then clicking on Full Bleed will not show what full bleed looks like. We only show how a border will look. Your choice will appear on your order. The border on work up to 40″ x 60″ is about 2.5″ and about 3.5″ on our biggest work.
Frame Color: Clicking on Frame Color will not change the color of the frame, but your choice will appear on your order.
Frames: Our frames are custom made from robust solid wood Studio moulding, 2″ deep with a 3/4″ face width and joined at the corners with butterfly joints.
Orientation: Some work can be displayed either horizontal or vertical—should you wish to change orientation, please contact us and we'll place the D-rings accordingly and confirm via email.
We print exclusively on Hahnemühle 100% Cotton Photo Rag Baryta paper and museum shadowbox frame in solid wood, Studio moulding handcrafted in a robust, contemporary profile preferred by galleries and museums worldwide.
Ask us should you need help or clarification. And please double check your (c)art to ensure your choices are correct.
Free Shipping to the US. Contact us for global shipping options.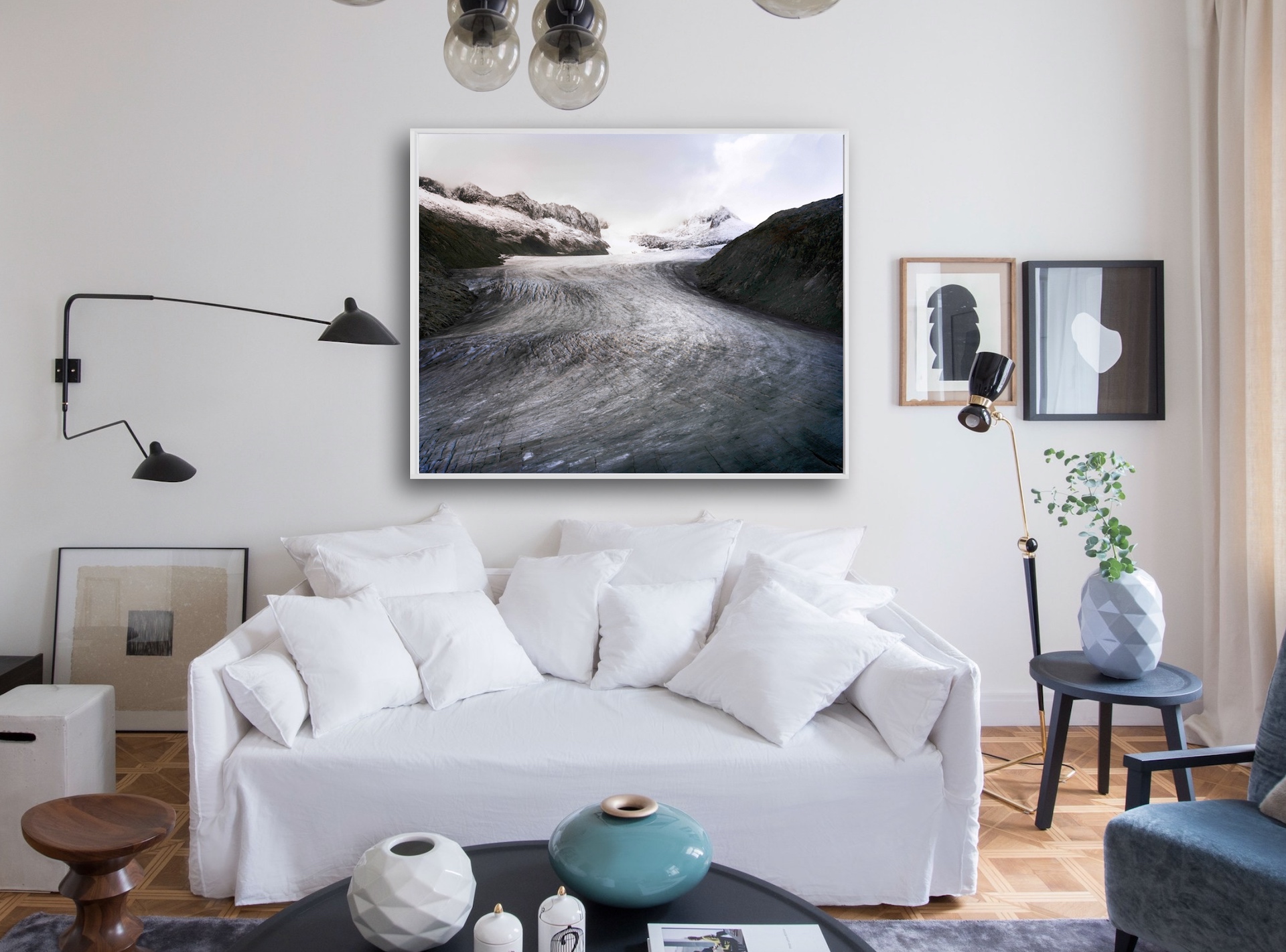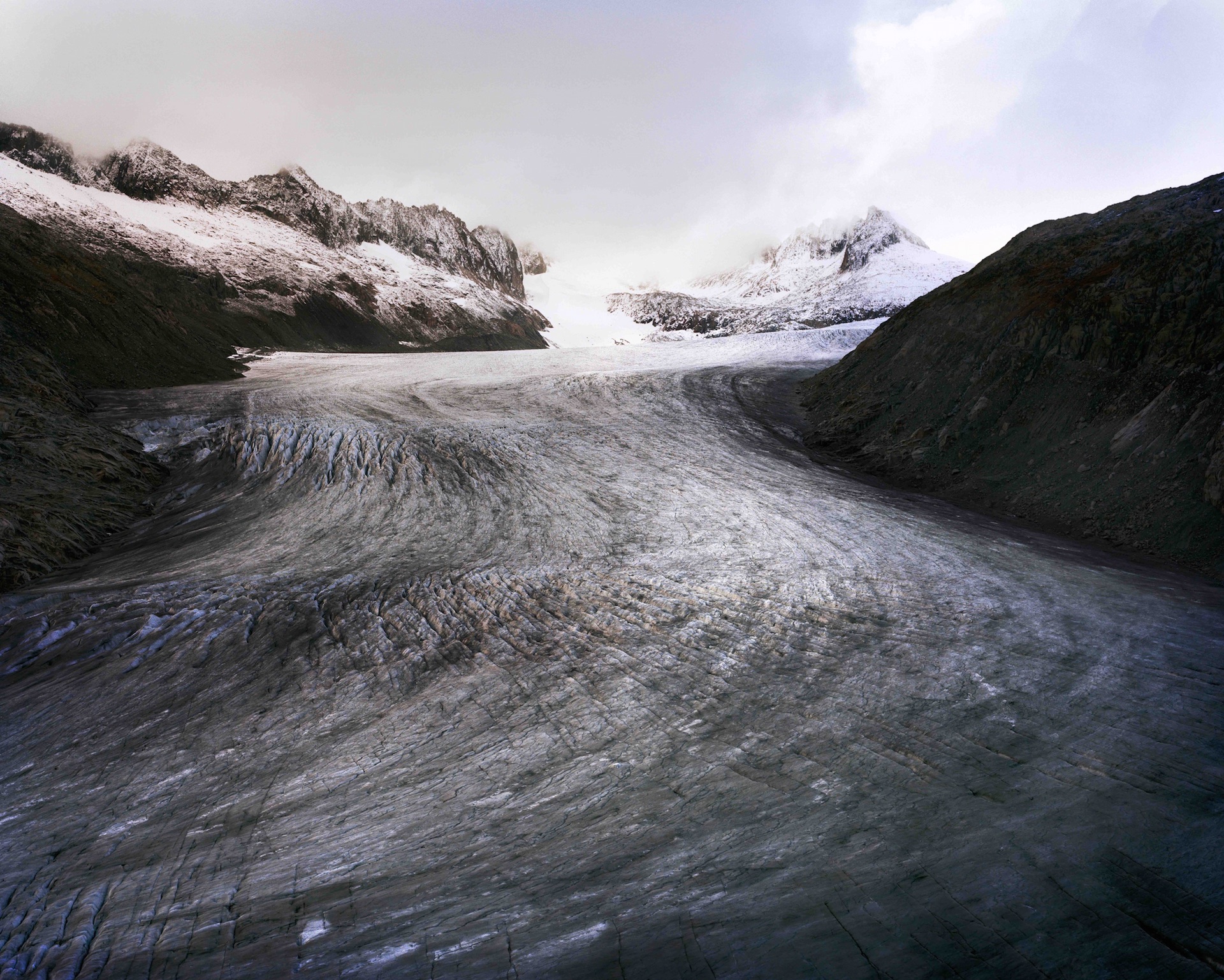 Accompanying the 2014 release of Joël Tettamanti's Works 2001-2019, the publisher Benteli writes "The Swiss photographer Joël Tettamanti, born 1977 in Cameroon is a restless traveller. Assignments for international magazines and global company groups take him to known and unknown places all over the world, which he, through his lens, more or less coincidentally approaches as an artist.
Moving from unspoiled countryside across the borders between nature and civilization to the centers of agglomeration, he focuses on places and subjects that give each location its specific identity. His richly detailed pictures explore the encounter between seemingly rationally constructed civilization and natural forms, showing just how absurd and surreal man-made structures can appear.
From his series Cols Alpins / Switzerland, 2001 – 2012, Mr. Tettamanti brilliantly captures the mood, the grandeur and the grace of an Alpine glacier and brings to mind the fragile relationship that exists between the oft unseen human presence in the landscape, our connection with nature and ultimately the lasting affect of one over the other.
With his particular view onto the world, Mr. Tettamanti is a regular contributor to magazines such as Wallpaper. His work has been exhibited all over Europe, in Brazil and in the US, and is part of private and public collections.