* DETAILS
While our recommended frame color and border or bleed choice is what we feel best complements the art and vision of the artist, by all means, choose a look that best complements your style and space.
Paper Size: Is based on Full Bleed and adding a border will change the aspect ratio, so paper size may adjust slightly smaller.
Glazing: To eliminate reflective glare, our biggest work (70″ to 80″ on the long side) is protected by an archival laminate in lieu of acrylic. Up to 60″ on the long side is protected by UV acrylic.
Border: If the framed image above is showing a white border, then clicking on Full Bleed will not show what full bleed looks like. We only show how a border will look. Your choice will appear on your order. The border on work up to 40″ x 60″ is about 2.5″ and about 3.5″ on our biggest work.
Frame Color: Clicking on Frame Color will not change the color of the frame, but your choice will appear on your order.
Frames: Our frames are custom made from robust solid wood Studio moulding, 2″ deep with a 3/4″ face width and joined at the corners with butterfly joints.
Orientation: Some work can be displayed either horizontal or vertical—should you wish to change orientation, please contact us and we'll place the D-rings accordingly and confirm via email.
We print exclusively on Hahnemühle 100% Cotton Photo Rag Baryta paper and museum shadowbox frame in solid wood, Studio moulding handcrafted in a robust, contemporary profile preferred by galleries and museums worldwide.
Ask us should you need help or clarification. And please double check your (c)art to ensure your choices are correct.
Free Shipping to the US. Contact us for global shipping options.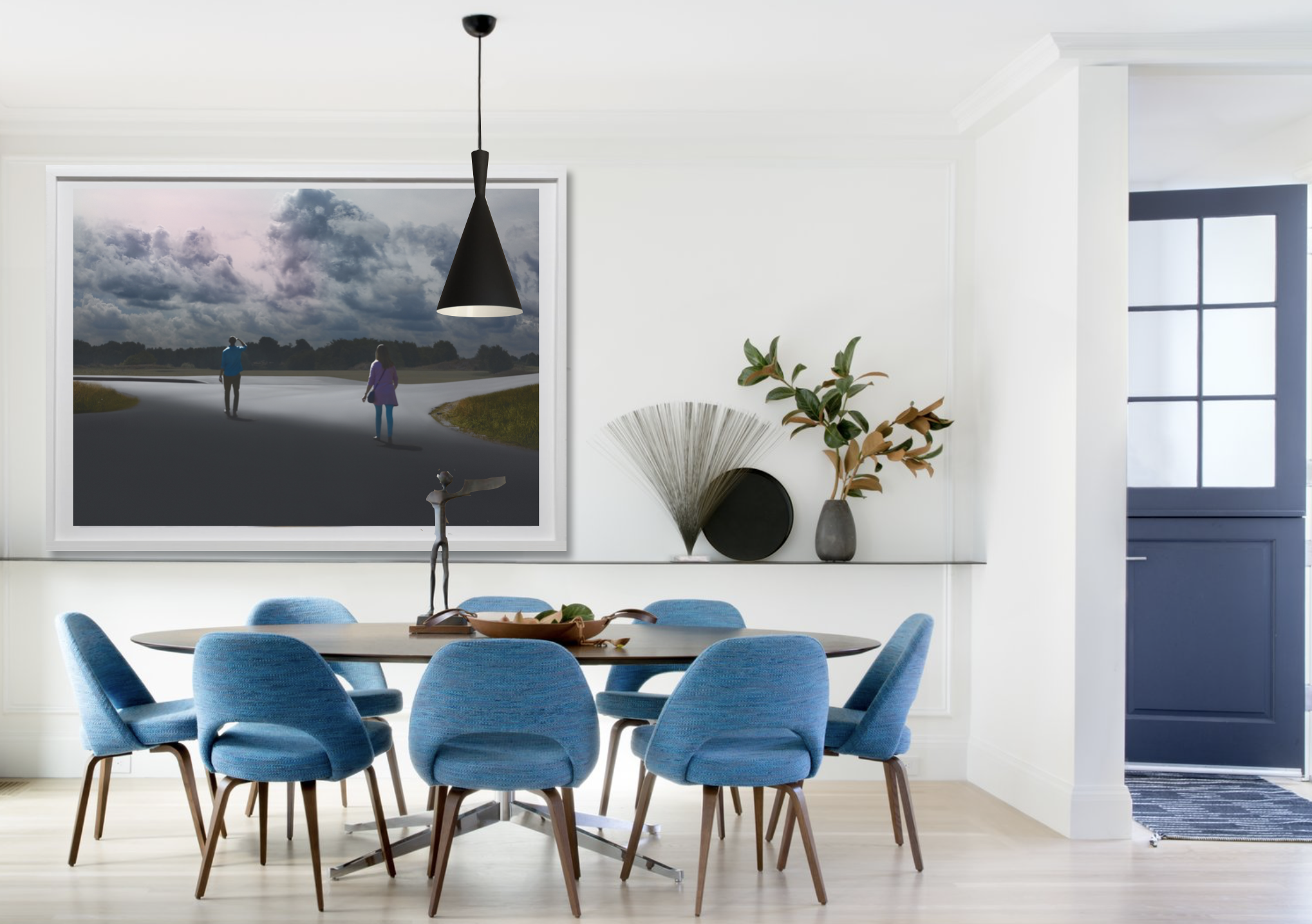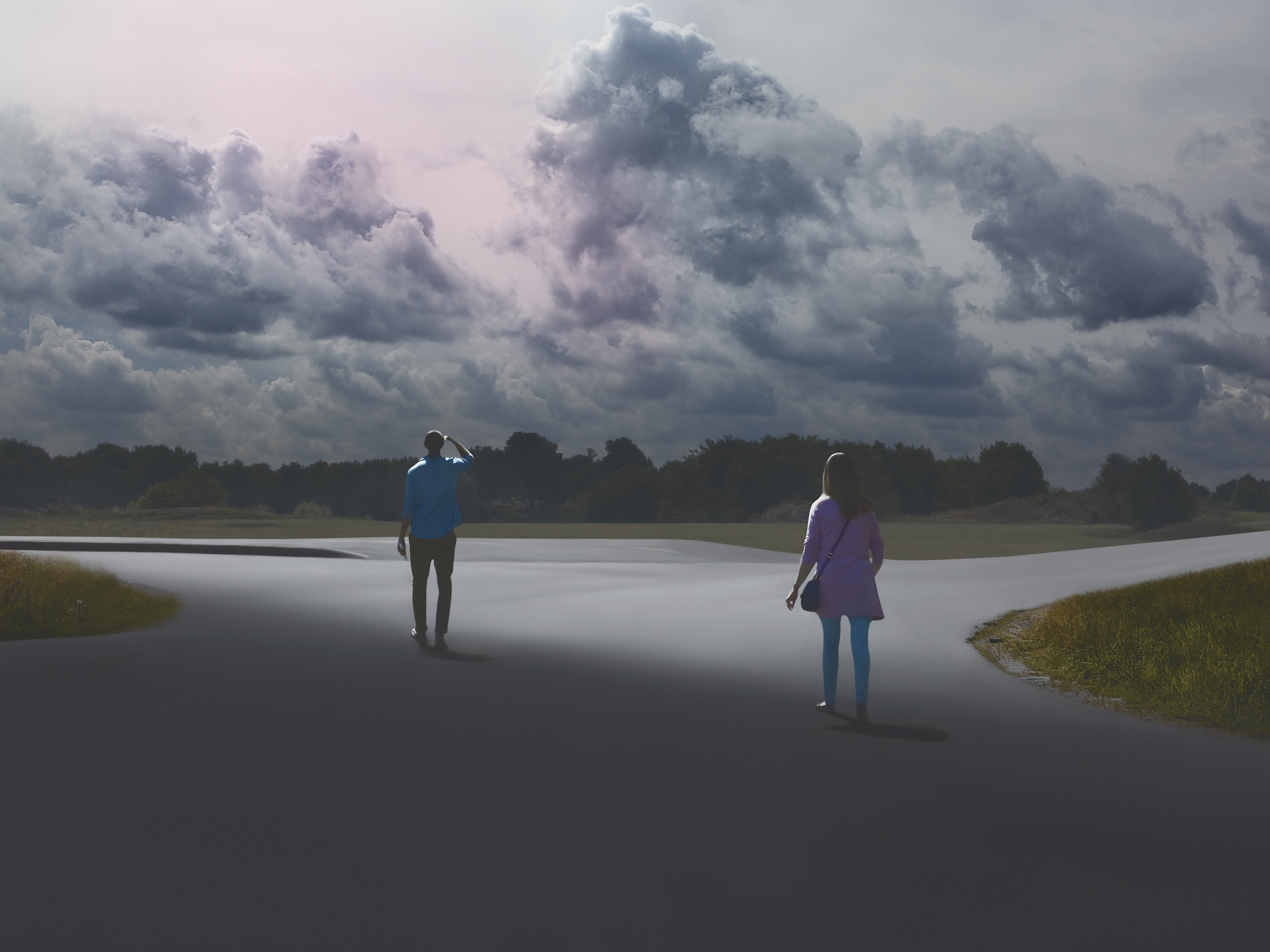 The purpose with New Nature was to create a scene, cinematic in its feel, where two figures (made anonymous) walk through a landscape intended to be the protagonist. The landscape itself was to have a certain gravity to it, a dreamlike sense of calmness interwoven with an underlying, enveloping, fearfulness. The figures then become objects in the scene, their movements determined by nature and without real meaning or narrative. The technical aspect of the image is as follows: it consists of two intertwined photographs (where the models are family members). The landscape itself is from Sweden, from a small, rural, area just outside Stockholm. The work has been carefully processed and edited in the digital post-production stage, with large elements removed or altered to reach the final aesthetic mood and feel.
Kristoffer's work has appeared in the International New York Times, Trine Ross, Politiken, Domus Israel: The International Magazine for Architecture and Design, Simon Bainbridge, "Emerging Talents: Global Ambitions, The British Journal of Photography, London, "New Talent Special Issue," Zoom Magazine, "Lacoste Elysée Prize 2010," Art Review and "I Fotografi del Domani," Vogue Italia.
His work is in public and private collections around the world including The Tierney Fellowship, New York, The School of the International Center of Photography, New York, Tasmanian Museum of Old and New Art (MONA), Michaelis School of Fine Arts, Cape Town and the Musée de E'lysée, Lausanne, Switzerland.