* DETAILS
While our recommended frame color and border or bleed choice is what we feel best complements the art and vision of the artist, by all means, choose a look that best complements your style and space.
Paper Size: Is based on Full Bleed and adding a border will change the aspect ratio, so paper size may adjust slightly smaller.
Glazing: To eliminate reflective glare, our biggest work (70″ to 80″ on the long side) is protected by an archival laminate in lieu of acrylic. Up to 60″ on the long side is protected by UV acrylic.
Border: If the framed image above is showing a white border, then clicking on Full Bleed will not show what full bleed looks like. We only show how a border will look. Your choice will appear on your order. The border on work up to 40″ x 60″ is about 2.5″ and about 3.5″ on our biggest work.
Frame Color: Clicking on Frame Color will not change the color of the frame, but your choice will appear on your order.
Frames: Our frames are custom made from robust solid wood Studio moulding, 2″ deep with a 3/4″ face width and joined at the corners with butterfly joints.
Orientation: Some work can be displayed either horizontal or vertical—should you wish to change orientation, please contact us and we'll place the D-rings accordingly and confirm via email.
We print exclusively on Hahnemühle 100% Cotton Photo Rag Baryta paper and museum shadowbox frame in solid wood, Studio moulding handcrafted in a robust, contemporary profile preferred by galleries and museums worldwide.
Ask us should you need help or clarification. And please double check your (c)art to ensure your choices are correct.
Free Shipping to the US. Contact us for global shipping options.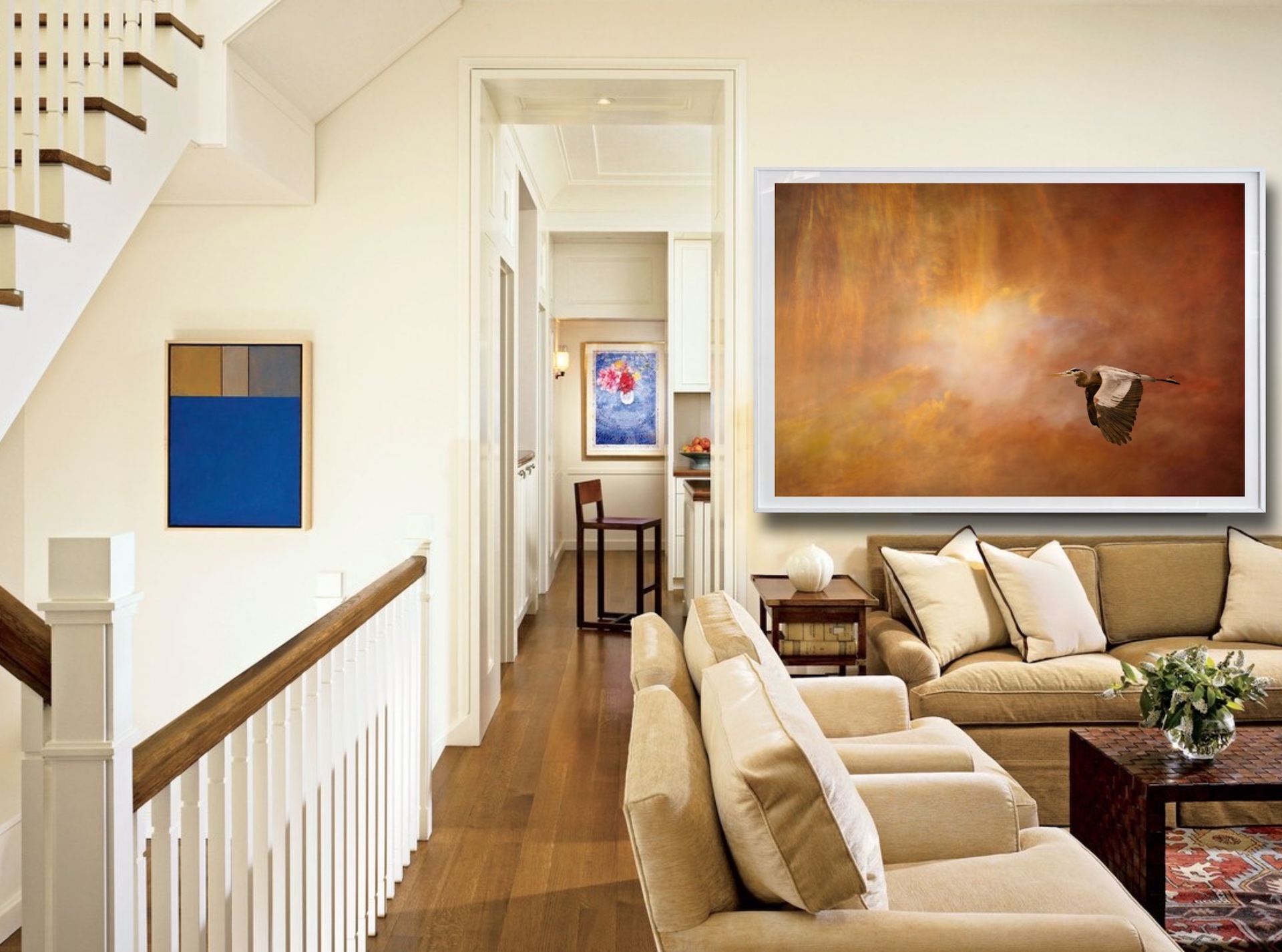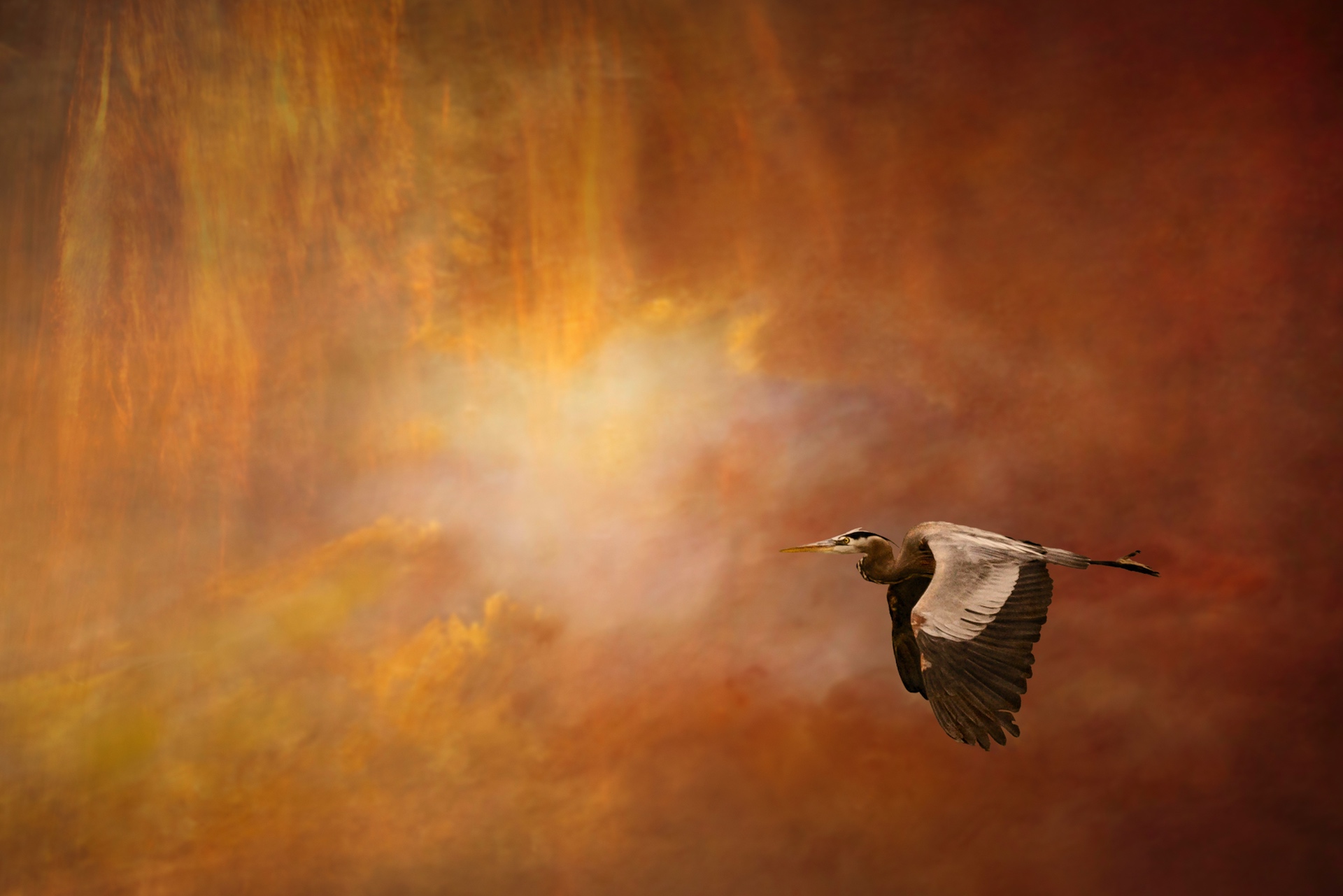 I have always been drawn to scenes that embody the idea of transcendence in nature and especially those employing the use of symbolism, which helps explain why they resonate deeply with some ancient connection in my psyche. Whenever I see the Great Blue Heron fly, I am struck by its soothing shape as well as by its distinctive, almost prehistoric, wing beat pattern. All birds in general are considered as archetypes representing creatures that can move between worlds, hinting at the shifting of states of being, transitioning from one world to another. The commanding physical size and unique presence of consciousness of the Great Blue Heron lead one to imagine that perhaps this transitioning quality is true. The natural soft qualities of clouds embody both a connection to and a release from the terrestrial. In this case the predominate color orange connotes tranquil change. I believe there is a part in all of us that is also trying to pierce the veil and see what is on the other side. In this image, that hole in the sky with the soft light is almost an hypnotic matrix calling for me to enter and the pure simplicity of the image helps set the imagination free to explore the viewers own feelings and thoughts. It also seems appropriate that the photograph of the Blue Heron was taken at Emigrant Lake, a place named for transitioning.