* DETAILS
While our recommended frame color and border or bleed choice is what we feel best complements the art and vision of the artist, by all means, choose a look that best complements your style and space.
Paper Size: Is based on Full Bleed and adding a border will change the aspect ratio, so paper size may adjust slightly smaller.
Glazing: To eliminate reflective glare, our biggest work (70″ to 80″ on the long side) is protected by an archival laminate in lieu of acrylic. Up to 60″ on the long side is protected by UV acrylic.
Border: If the framed image above is showing a white border, then clicking on Full Bleed will not show what full bleed looks like. We only show how a border will look. Your choice will appear on your order. The border on work up to 40″ x 60″ is about 2.5″ and about 3.5″ on our biggest work.
Frame Color: Clicking on Frame Color will not change the color of the frame, but your choice will appear on your order.
Frames: Our frames are custom made from robust solid wood Studio moulding, 2″ deep with a 3/4″ face width and joined at the corners with butterfly joints.
Orientation: Some work can be displayed either horizontal or vertical—should you wish to change orientation, please contact us and we'll place the D-rings accordingly and confirm via email.
We print exclusively on Hahnemühle 100% Cotton Photo Rag Baryta paper and museum shadowbox frame in solid wood, Studio moulding handcrafted in a robust, contemporary profile preferred by galleries and museums worldwide.
Ask us should you need help or clarification. And please double check your (c)art to ensure your choices are correct.
Free Shipping to the US. Contact us for global shipping options.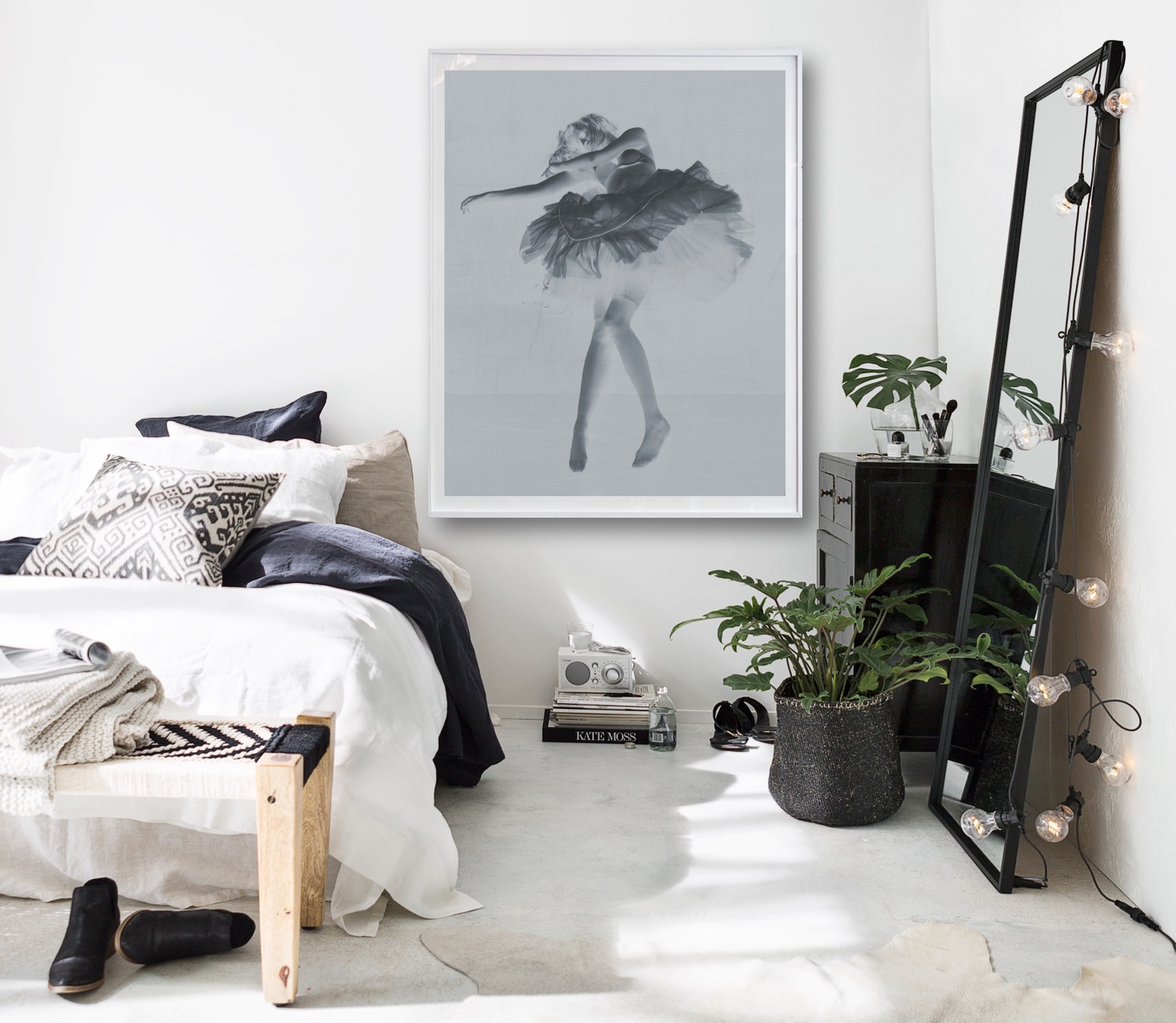 When I was a little girl I dreamed of being a ballerina. At the age of 8 years I was fascinated by Maya Plisetskaya, who was a leading ballet dancer at the famous Bolshoi Theatre in Moscow in the Soviet time. My favorite ballet was "Swan Lake" on music of Piotr Tchaikovsky. My childhood dream never came true. I became an artist/photographer and at the age of 30 moved to The Netherlands. My memories of the past often serve as a source of inspiration for my work. Two years ago I created a series of grayscale photographs with the title "Insomnia." One photo from this series, called "Black Swan," is dedicated to my unrealized dreams which remind of themselves during sleepless nights appearing as fuzzy shadows of a distant past. I have attempted to create images which are elegant and graceful, but also somewhat uncomfortable in there human form. As a "swan," she is poised, though she feels isolated at night. This photograph with another 3 images from the series "Insomnia" was published in the book "New Dutch Photography Talent 2016," celebrating the 100 best emerging Dutch photographers every year.