Operazione Mare Nostrum (Mare Nostrum Operation)
* DETAILS
While our recommended frame color and border or bleed choice is what we feel best complements the art and vision of the artist, by all means, choose a look that best complements your style and space.
Paper Size: Is based on Full Bleed and adding a border will change the aspect ratio, so paper size may adjust slightly smaller.
Glazing: To eliminate reflective glare, our biggest work (70″ to 80″ on the long side) is protected by an archival laminate in lieu of acrylic. Up to 60″ on the long side is protected by UV acrylic.
Border: If the framed image above is showing a white border, then clicking on Full Bleed will not show what full bleed looks like. We only show how a border will look. Your choice will appear on your order. The border on work up to 40″ x 60″ is about 2.5″ and about 3.5″ on our biggest work.
Frame Color: Clicking on Frame Color will not change the color of the frame, but your choice will appear on your order.
Frames: Our frames are custom made from robust solid wood Studio moulding, 2″ deep with a 3/4″ face width and joined at the corners with butterfly joints.
Orientation: Some work can be displayed either horizontal or vertical—should you wish to change orientation, please contact us and we'll place the D-rings accordingly and confirm via email.
We print exclusively on Hahnemühle 100% Cotton Photo Rag Baryta paper and museum shadowbox frame in solid wood, Studio moulding handcrafted in a robust, contemporary profile preferred by galleries and museums worldwide.
Ask us should you need help or clarification. And please double check your (c)art to ensure your choices are correct.
Free Shipping to the US. Contact us for global shipping options.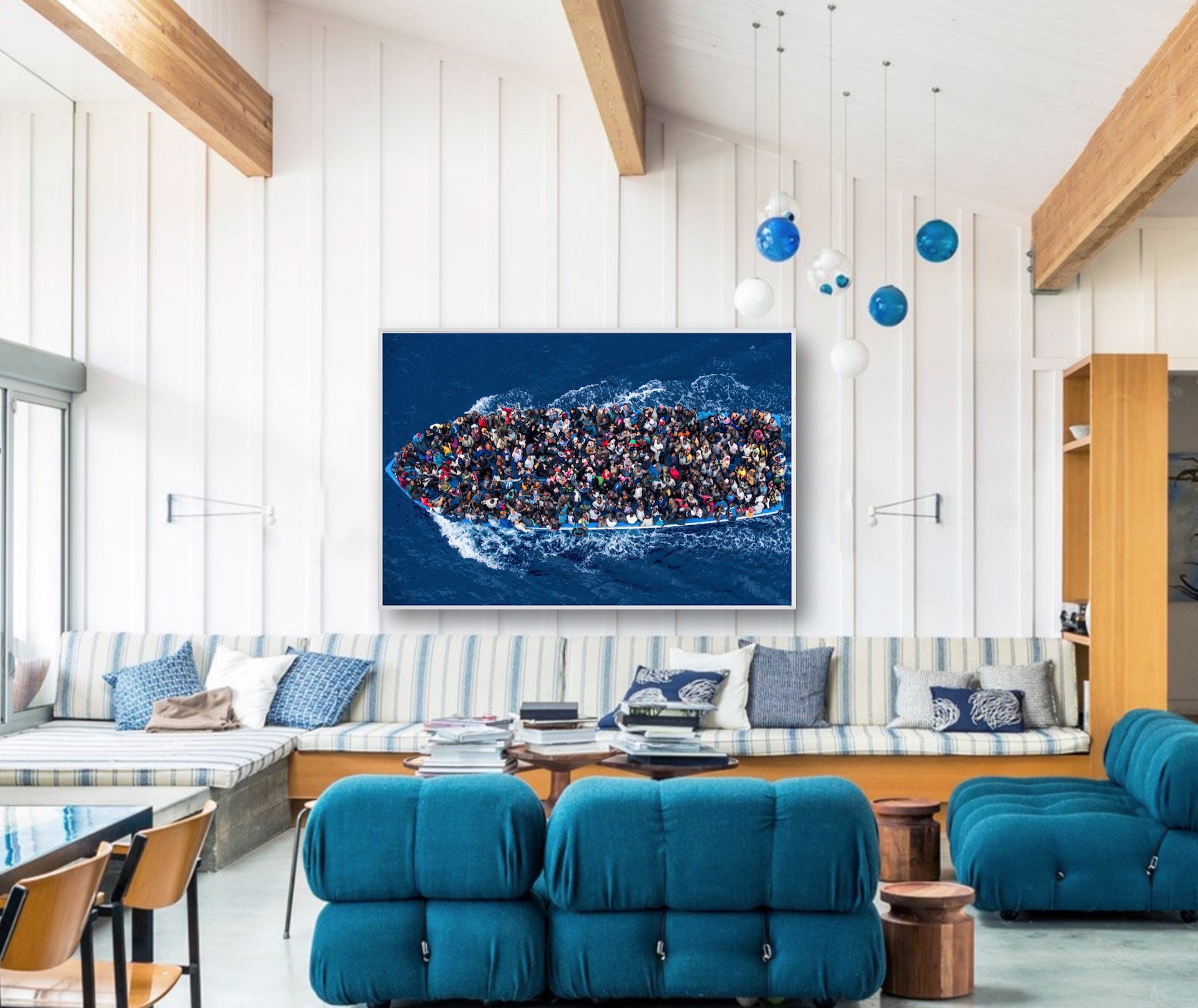 World Press Photo 2015, general news , 2nd prize singles: rescue from Bergamini ship of italian Navy 07 June 2014 Mediterranean Sea.
I was able to be on board of the helicopter thanks to the long-lasting collaboration I have with the Italian State Police with whom I also realized the exhibition Italia's horizons.
Refugees crowd on board a boat some 25 kilometers from the Libyan coast, prior to being rescued by an Italian naval frigate working as part of Operation Mare Nostrum (OMN). The search-and-rescue operation was put in place by the Italian government, in response to the drowning of hundreds of migrants off the island of Lampedusa at the end of 2013. The numbers of people risking their lives to cross the Mediterranean Sea rose sharply in 2014, as a result of conflicts or persecution in Syria, the Horn of Africa, and other sub-Saharan countries.
OMN involved the Italian Red Cross, Save the Children, and other NGOs in an effort not only to rescue lives, but to provide medical help, counseling, and cultural support. Naval officers were also empowered to arrest human traffickers and seize their ships. In its one year of operation, OMN brought 330 smugglers to justice, and saved more than 150,000 people, at least a quarter of which were refugees from Syria. The operation was disbanded in October, and replaced by Triton, an operation conducted by the EU border agency Frontex, focusing more on surveillance than rescue.