Vaquero from the series Smoke Bombs and Border Crossings
* DETAILS
While our recommended frame color and border or bleed choice is what we feel best complements the art and vision of the artist, by all means, choose a look that best complements your style and space.
Paper Size: Is based on Full Bleed and adding a border will change the aspect ratio, so paper size may adjust slightly smaller.
Glazing: To eliminate reflective glare, our biggest work (70″ to 80″ on the long side) is protected by an archival laminate in lieu of acrylic. Up to 60″ on the long side is protected by UV acrylic.
Border: If the framed image above is showing a white border, then clicking on Full Bleed will not show what full bleed looks like. We only show how a border will look. Your choice will appear on your order. The border on work up to 40″ x 60″ is about 2.5″ and about 3.5″ on our biggest work.
Frame Color: Clicking on Frame Color will not change the color of the frame, but your choice will appear on your order.
Frames: Our frames are custom made from robust solid wood Studio moulding, 2″ deep with a 3/4″ face width and joined at the corners with butterfly joints.
Orientation: Some work can be displayed either horizontal or vertical—should you wish to change orientation, please contact us and we'll place the D-rings accordingly and confirm via email.
We print exclusively on Hahnemühle 100% Cotton Photo Rag Baryta paper and museum shadowbox frame in solid wood, Studio moulding handcrafted in a robust, contemporary profile preferred by galleries and museums worldwide.
Ask us should you need help or clarification. And please double check your (c)art to ensure your choices are correct.
Free Shipping to the US. Contact us for global shipping options.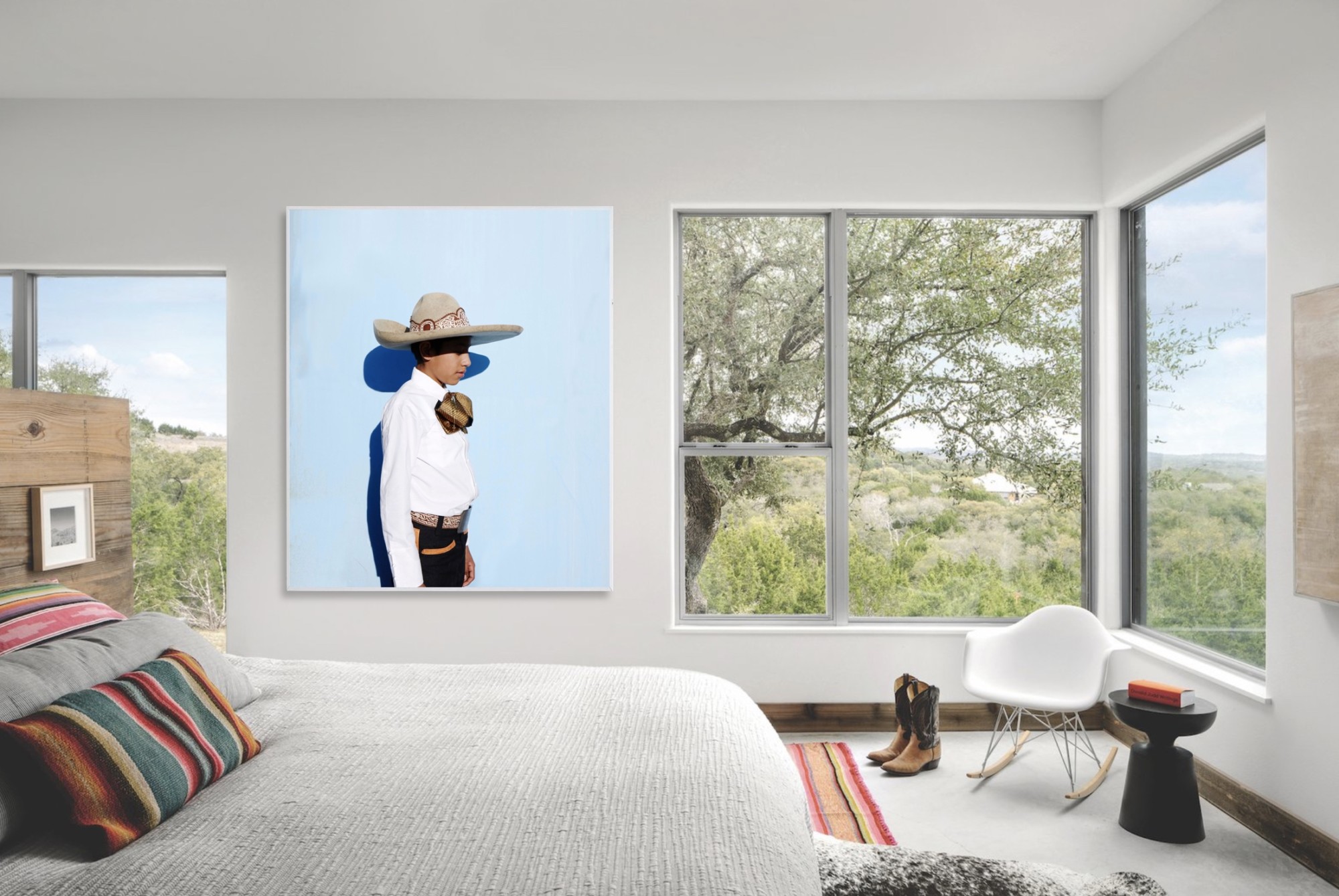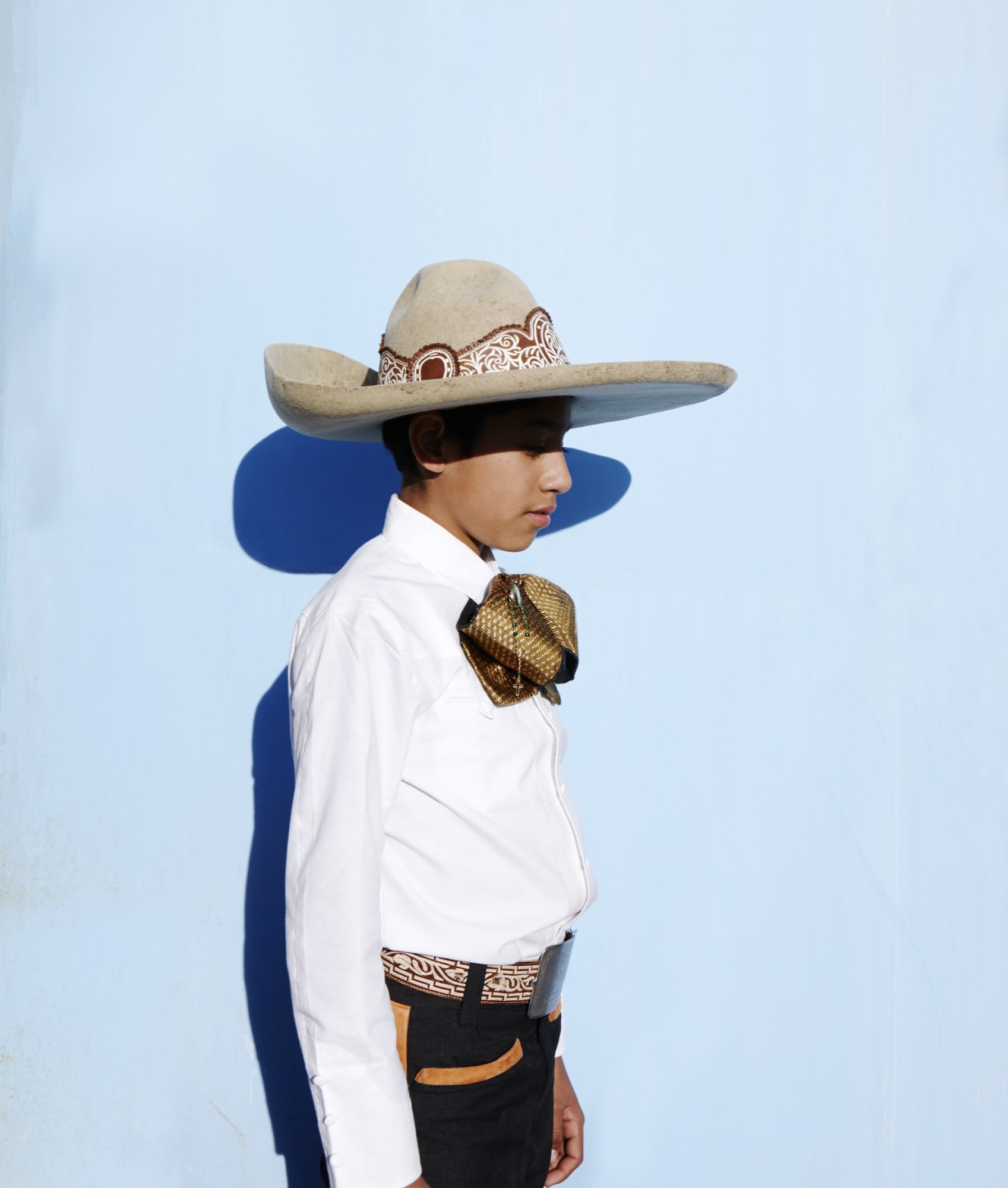 Photographed in both Texas and Mexico, this project is a survey of my own backyard merging documentary portrayals with dreamlike creations to investigate notions of nationalism and community.Influenced by my Mother's Italian heritage and my Texas upbringing, Smoke Bombs and Border Crossings draws inspiration from classic Spaghetti Western movies, the 1960's subgenre of Italian Western films made famous by director Sergio Leone.
I have long been interested in the American archetype, the Wild West and how its iconic self-image is represented in television, movies and interpreted in the US and by other cultures. Simply telling people I am from Texas begins a discourse laced with stereotypes made famous by the genre.
Spaghetti Westerns famously appropriated, reinterpreted and questioned its own and Western mythologies. Reflecting cultural and political conditions of post war Europe, the genre developed into a repository for issues concerning National Identity on both sides of the Atlantic. I am intrigued by the present-day use of 'the Wild West' to either approve of or disparage the new frontier, and I am curious in what it could say about the current state of the American myth.
With an emphasis on costume and uniform, the work combines fact and fiction in punctuated phrases where subjects act out characters as part of a group or a team. This project integrates my ongoing fascination with regalia and continues my exploration of self-representation and cultural identity at large.
In Smoke Bombs and Border Crossings, Mexican Charros, American Cowboys, military soldiers become suspended in a playful sense of preparedness at the Texas Mexico Border. A territory of blended nationalities, legendary historical battles, contested land, and a very famous wall. This is the true Wild West.
She has received many honors and awards for her work from both publications and institutions. Most recently, she was a Grand Prix Finalist at the 32nd International Festival of Fashion and Photography in Hyeres, France; received the Descubrimientos (Top Discovery) PhotoEspaña Prize in Madrid; Kolga Photo Award in Tbilisi, Georgia; PhotoVisa Award in Krasnodar, Russia; FotoFest Discoveries of the Meeting Place in Houston; and The Taylor Wessing Portrait Exhibition at the National Portrait Gallery in London. Ms. Newberry's photographs can regularly be seen in the pages of magazines and are in the permanent collections of The Museum of Fine Arts, Houston; Centro de Arte Alcobendas, Spain; and Villa Noailles, Hyères, France. Her work has been exhibited throughout the US, Europe and China. She can often be found chasing tumbleweeds between her home in Dallas and Marfa, Texas.