* DETAILS
While our recommended frame color and border or bleed choice is what we feel best complements the art and vision of the artist, by all means, choose a look that best complements your style and space.
Paper Size: Is based on Full Bleed and adding a border will change the aspect ratio, so paper size may adjust slightly smaller.
Glazing: To eliminate reflective glare, our biggest work (70″ to 80″ on the long side) is protected by an archival laminate in lieu of acrylic. Up to 60″ on the long side is protected by UV acrylic.
Border: If the framed image above is showing a white border, then clicking on Full Bleed will not show what full bleed looks like. We only show how a border will look. Your choice will appear on your order. The border on work up to 40″ x 60″ is about 2.5″ and about 3.5″ on our biggest work.
Frame Color: Clicking on Frame Color will not change the color of the frame, but your choice will appear on your order.
Frames: Our frames are custom made from robust solid wood Studio moulding, 2″ deep with a 3/4″ face width and joined at the corners with butterfly joints.
Orientation: Some work can be displayed either horizontal or vertical—should you wish to change orientation, please contact us and we'll place the D-rings accordingly and confirm via email.
We print exclusively on Hahnemühle 100% Cotton Photo Rag Baryta paper and museum shadowbox frame in solid wood, Studio moulding handcrafted in a robust, contemporary profile preferred by galleries and museums worldwide.
Ask us should you need help or clarification. And please double check your (c)art to ensure your choices are correct.
Free Shipping to the US. Contact us for global shipping options.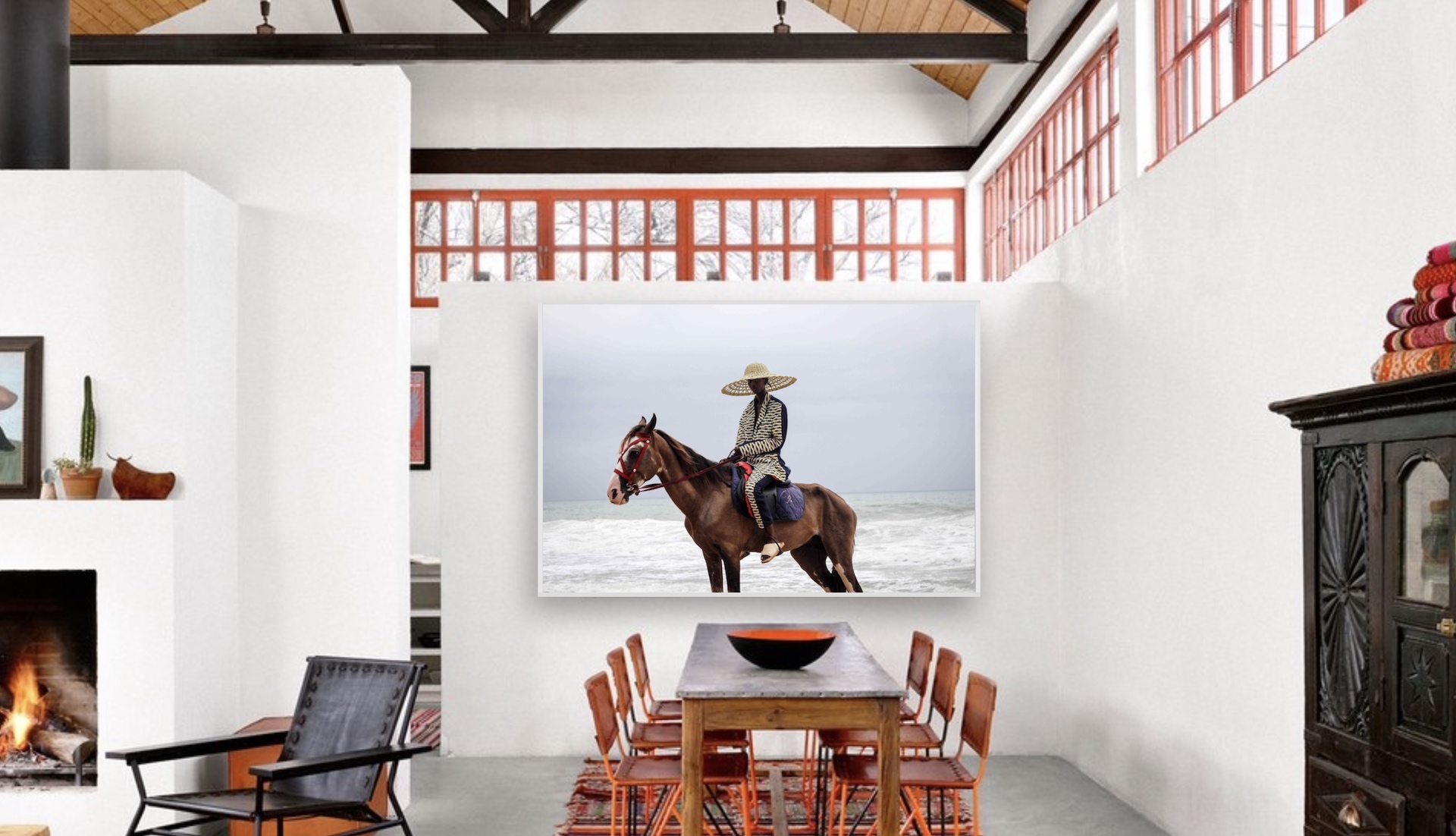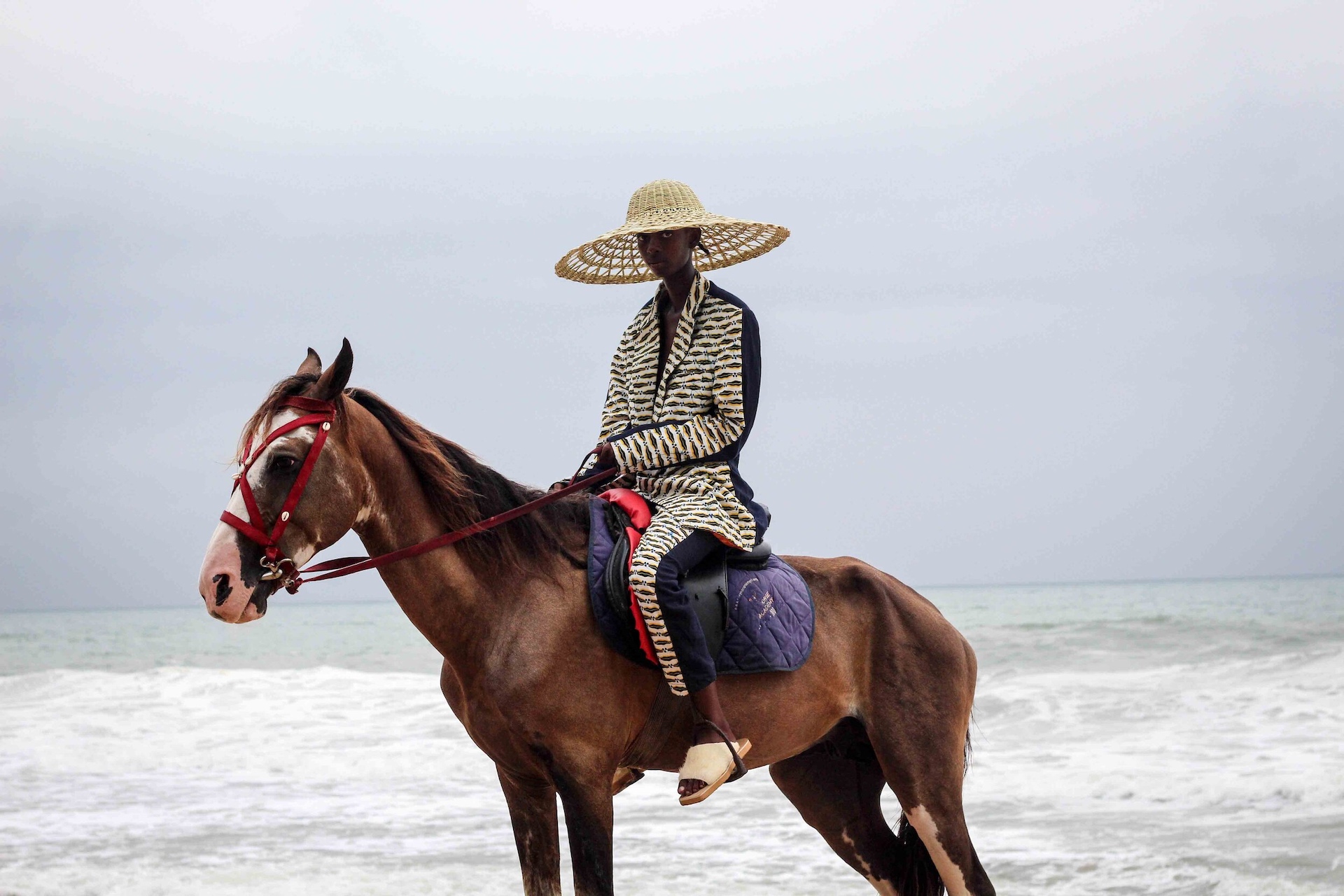 This is a story on the many facets of the word Latitude: More than a system for mapping the world, latitude also means "freedom of action or choice." Atmos Magazine asked me to capture the meaning of Latitude in my culture, through the lens of fashion. In keeping with the magazine's mission, we were conscious of our environmental impact: only local models & designers, materials and fabrics were used, with an eco-responsible vision. Côte d'Ivoire's fascinating architecture always evokes a feeling of nostalgia for the past. One of those places in particular is Grand Bassam, the old French-colonial seaside town which was once the nation's capital. It is filled with arresting 19th and 20th-century architectural ruins; it embodies, on the one hand, colonial architecture and town planning, based on the principles of functionalism and adaptations to climatic conditions, and, on the other hand, a community of the N'zima people, which demonstrates the permanency of indigenous cultures, despite serious environmental issues. Indeed, from late September until the beginning of November, unprecedented coastal floods swallowed the streets and homes of the Quartier France of Grand Bassam, a UNESCO World Heritage site. The main roads suddenly became impassable unless by canoes. Numerous historic sites were severely damaged. Coastal erosion, caused by climate change, is a growing problem for West African nations. The region is losing more than $3.8 billion a year to coastal erosion, according to a recent World Bank study. Ivory Coast (Côte d'Ivoire) is the worst-hit country and has lost $2 billion to the rising sea levels, nearly 5% of its GDP. For this shoot, I really wanted to capture this atmosphere of traditional and modern African culture which reigns heavily throughout Bassam, now at risk of erasure.