* DETAILS
While our recommended frame color and border or bleed choice is what we feel best complements the art and vision of the artist, by all means, choose a look that best complements your style and space.
Paper Size: Is based on Full Bleed and adding a border will change the aspect ratio, so paper size may adjust slightly smaller.
Glazing: To eliminate reflective glare, our biggest work (70″ to 80″ on the long side) is protected by an archival laminate in lieu of acrylic. Up to 60″ on the long side is protected by UV acrylic.
Border: If the framed image above is showing a white border, then clicking on Full Bleed will not show what full bleed looks like. We only show how a border will look. Your choice will appear on your order. The border on work up to 40″ x 60″ is about 2.5″ and about 3.5″ on our biggest work.
Frame Color: Clicking on Frame Color will not change the color of the frame, but your choice will appear on your order.
Frames: Our frames are custom made from robust solid wood Studio moulding, 2″ deep with a 3/4″ face width and joined at the corners with butterfly joints.
Orientation: Some work can be displayed either horizontal or vertical—should you wish to change orientation, please contact us and we'll place the D-rings accordingly and confirm via email.
We print exclusively on Hahnemühle 100% Cotton Photo Rag Baryta paper and museum shadowbox frame in solid wood, Studio moulding handcrafted in a robust, contemporary profile preferred by galleries and museums worldwide.
Ask us should you need help or clarification. And please double check your (c)art to ensure your choices are correct.
Free Shipping to the US. Contact us for global shipping options.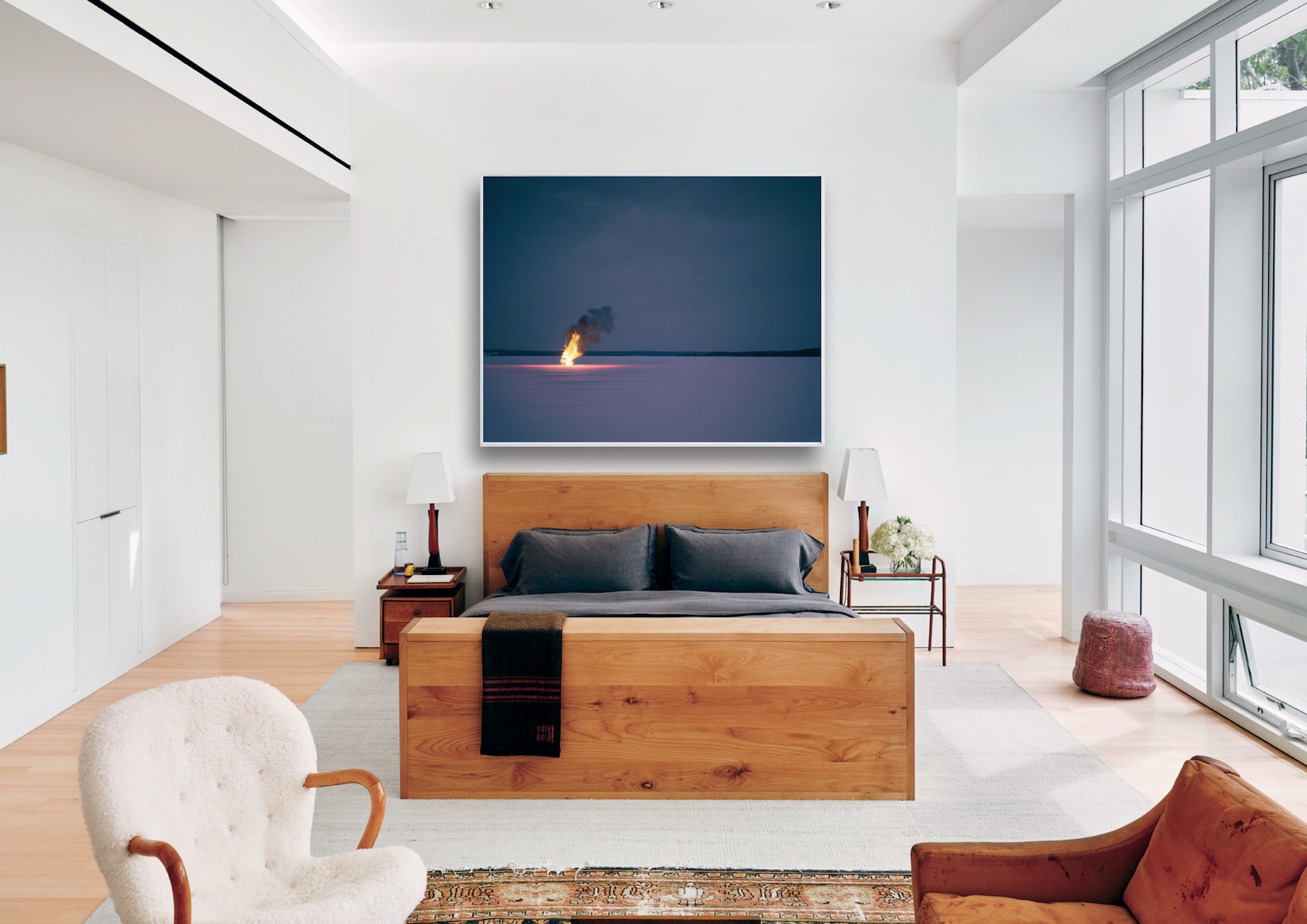 I have a friend who bought a house unseen at a bankruptcy auction in the forest in Sweden some years ago. I was there the day he got the keys, and I have been returning often, especially in the wintertime. The landscape there is quite different to what I am used to in the archipelago where I live. I work with staged landscape, and this allowed me to try out concepts that would be impossible at home. So we cut down this tree, near his house, brought it to this frozen lake – and lit it.
Following 11 generations before him, Ole Brodersen (37) grew up on an island-society without cars, today holding about 60 inhabitants. Son of a sail maker, grandson of a captain, he used to row to school, where the only other pupil joined him in a class of two. Ole first started sailing at the age of six, and has spent most of his life close to the ocean, in constant company of the elements.
Ole was further exposed to the elements while circumnavigating the Atlantic Ocean. Accompanied by a few close friends, aboard a 37 feet wooden pilot cutter built in 1894, and at the mercy of elements for a year they led a life in elemental enclosure.
Ole Brodersen is educated as an art director from one of the top 10 creative schools in the world. Brodersen later assisted the fine-art photographer Dag Alveng (represented by amongst others MOMA and the Metropolitan Museum of Art.) All his works are photographed on and around his home-island where he also runs a gallery exhibiting his works. He recently moved back to his grandparent's house from the 1850s, and set up a darkroom in his father's sail loft on the island. Brodersen's photographs were last shown at the Scandinavia House in New York; his participation supported by the Norwegian Consulate and mentioned by the New Yorker and Harper's Magazine. His works has been acquired by private and public collections in Norway, Sweden, Serbia, Malawi, the United Arab Emirates and USA. Brodersen has sojourned in New York, Prague, Belgrade, Stockholm, Lima and Porto. He is a member of Norwegian Society of Fine Art Photographers, Norwegian Visual Artist's Association and recently received the city of Risør's art grant.