* DETAILS
While our recommended frame color and border or bleed choice is what we feel best complements the art and vision of the artist, by all means, choose a look that best complements your style and space.
Paper Size: Is based on Full Bleed and adding a border will change the aspect ratio, so paper size may adjust slightly smaller.
Glazing: To eliminate reflective glare, our biggest work (70″ to 80″ on the long side) is protected by an archival laminate in lieu of acrylic. Up to 60″ on the long side is protected by UV acrylic.
Border: If the framed image above is showing a white border, then clicking on Full Bleed will not show what full bleed looks like. We only show how a border will look. Your choice will appear on your order. The border on work up to 40″ x 60″ is about 2.5″ and about 3.5″ on our biggest work.
Frame Color: Clicking on Frame Color will not change the color of the frame, but your choice will appear on your order.
Frames: Our frames are custom made from robust solid wood Studio moulding, 2″ deep with a 3/4″ face width and joined at the corners with butterfly joints.
Orientation: Some work can be displayed either horizontal or vertical—should you wish to change orientation, please contact us and we'll place the D-rings accordingly and confirm via email.
We print exclusively on Hahnemühle 100% Cotton Photo Rag Baryta paper and museum shadowbox frame in solid wood, Studio moulding handcrafted in a robust, contemporary profile preferred by galleries and museums worldwide.
Ask us should you need help or clarification. And please double check your (c)art to ensure your choices are correct.
Free Shipping to the US. Contact us for global shipping options.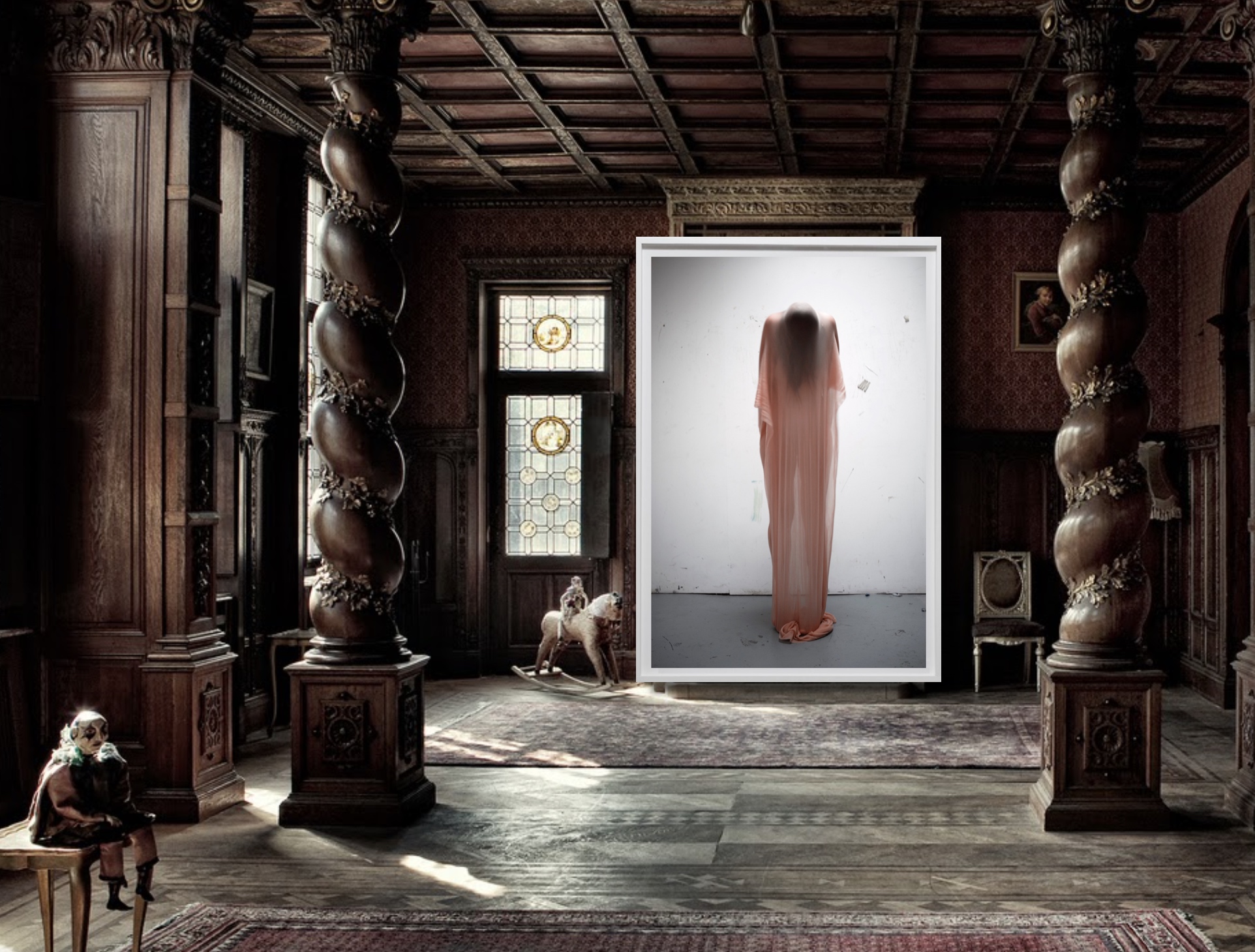 This picture was taken in the same format as all my pictures, I turn up to the space and work with what I find there. This was taken at a strange time in my life as I was preparing for my wedding in June which was wonderfully exciting, but at the same time watching my mother in law loose her long battle with cancer. Though at the time of shooting I don't try to convey any story or emotion, in fact I empty myself of it at the time of shooting, this picture is a perfect example of how it finds it's way in despite that. This picture speaks of strength and fragility, of defeat and acceptance. It looks like an angel made of sinew and transmits a feeling of other worldliness and calm.
The pictures are taken very spontaneously. I turn up with my camera and simply react to the space and it's contents. Because I'm alone, often in quite eerie places, the atmosphere and my mood is very raw and saturates the pictures. The process of taking the pictures is punishing. It leaves me bruised and aching. Each one is taken on self-timer, which makes for a repetitious, highly physical process of running between the camera and the pose, making adjustments as I go. It feels like I'm hammering my body into the landscape of the room, one picture at a time – documented performance art.
Polly's work can be found in the Tim Walker Collection and Michael Hoppen Gallery and is well documented in the Huffington Post, British Journal of Photography, FeatureShoot, Stern, Refinery 29, Ignani, Hunger TV, Juxtapoze, DAZED and interviewed on Soundcloud.