* DETAILS
While our recommended frame color and border or bleed choice is what we feel best complements the art and vision of the artist, by all means, choose a look that best complements your style and space.
Paper Size: Is based on Full Bleed and adding a border will change the aspect ratio, so paper size may adjust slightly smaller.
Glazing: To eliminate reflective glare, our biggest work (70″ to 80″ on the long side) is protected by an archival laminate in lieu of acrylic. Up to 60″ on the long side is protected by UV acrylic.
Border: If the framed image above is showing a white border, then clicking on Full Bleed will not show what full bleed looks like. We only show how a border will look. Your choice will appear on your order. The border on work up to 40″ x 60″ is about 2.5″ and about 3.5″ on our biggest work.
Frame Color: Clicking on Frame Color will not change the color of the frame, but your choice will appear on your order.
Frames: Our frames are custom made from robust solid wood Studio moulding, 2″ deep with a 3/4″ face width and joined at the corners with butterfly joints.
Orientation: Some work can be displayed either horizontal or vertical—should you wish to change orientation, please contact us and we'll place the D-rings accordingly and confirm via email.
We print exclusively on Hahnemühle 100% Cotton Photo Rag Baryta paper and museum shadowbox frame in solid wood, Studio moulding handcrafted in a robust, contemporary profile preferred by galleries and museums worldwide.
Ask us should you need help or clarification. And please double check your (c)art to ensure your choices are correct.
Free Shipping to the US. Contact us for global shipping options.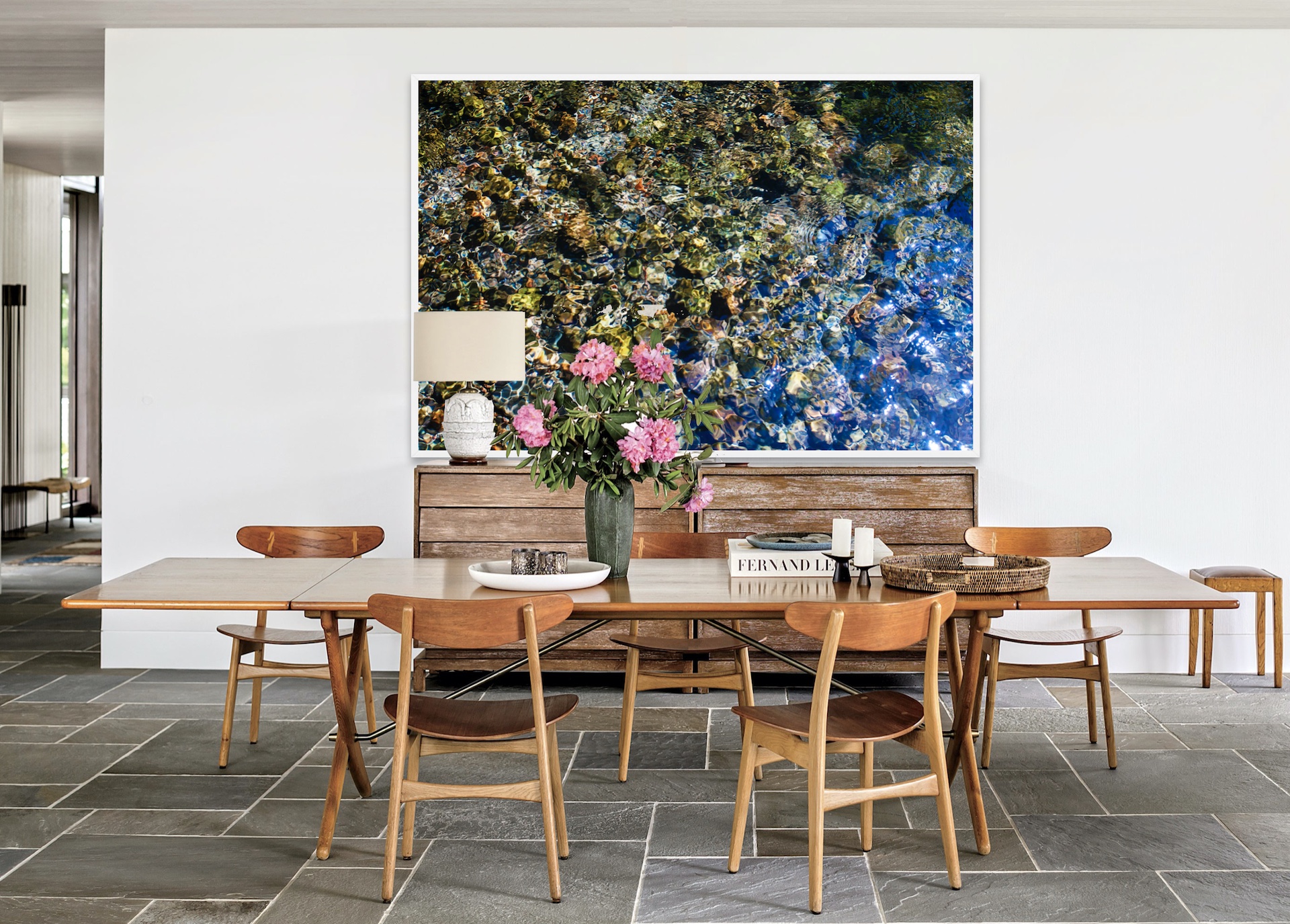 William's work can only be described as a spring tapestry of many colors. They are beyond all measure of vibrancy, alchemizing into color like nothing we've seen. Yet it's all Nature, natural phenomena, the rainbow-prismatic. Water filtered through volcanic Cascades rock emerges ultra clear, a rippling lens bending light rays. The water's surface is so alive and constantly rippling (that the naked eye can't perceive these colors, they average out and you don't see color to any significant degree, you see a wash of brightness but little color). While shooting, William had no idea the colors lived there until he looked at the screen after retreating to the interior of his van. The color only lives for brief slices of time – in this case at 1/640 sec. f/5.6 ISO 1250. A picture of light itself, it's about light and water as a refracting lens, bending light rays into rainbow effects, micro-painting by light rays dancing stopped at 1/640th of a second. It also seems a window into interstellar space at micro scale, or the canvases of Jackson Pollack, or any number of things because in this image – light itself as a painting.