* DETAILS
While our recommended frame color and border or bleed choice is what we feel best complements the art and vision of the artist, by all means, choose a look that best complements your style and space.
Paper Size: Is based on Full Bleed and adding a border will change the aspect ratio, so paper size may adjust slightly smaller.
Glazing: To eliminate reflective glare, our biggest work (70″ to 80″ on the long side) is protected by an archival laminate in lieu of acrylic. Up to 60″ on the long side is protected by UV acrylic.
Border: If the framed image above is showing a white border, then clicking on Full Bleed will not show what full bleed looks like. We only show how a border will look. Your choice will appear on your order. The border on work up to 40″ x 60″ is about 2.5″ and about 3.5″ on our biggest work.
Frame Color: Clicking on Frame Color will not change the color of the frame, but your choice will appear on your order.
Frames: Our frames are custom made from robust solid wood Studio moulding, 2″ deep with a 3/4″ face width and joined at the corners with butterfly joints.
Orientation: Some work can be displayed either horizontal or vertical—should you wish to change orientation, please contact us and we'll place the D-rings accordingly and confirm via email.
We print exclusively on Hahnemühle 100% Cotton Photo Rag Baryta paper and museum shadowbox frame in solid wood, Studio moulding handcrafted in a robust, contemporary profile preferred by galleries and museums worldwide.
Ask us should you need help or clarification. And please double check your (c)art to ensure your choices are correct.
Free Shipping to the US. Contact us for global shipping options.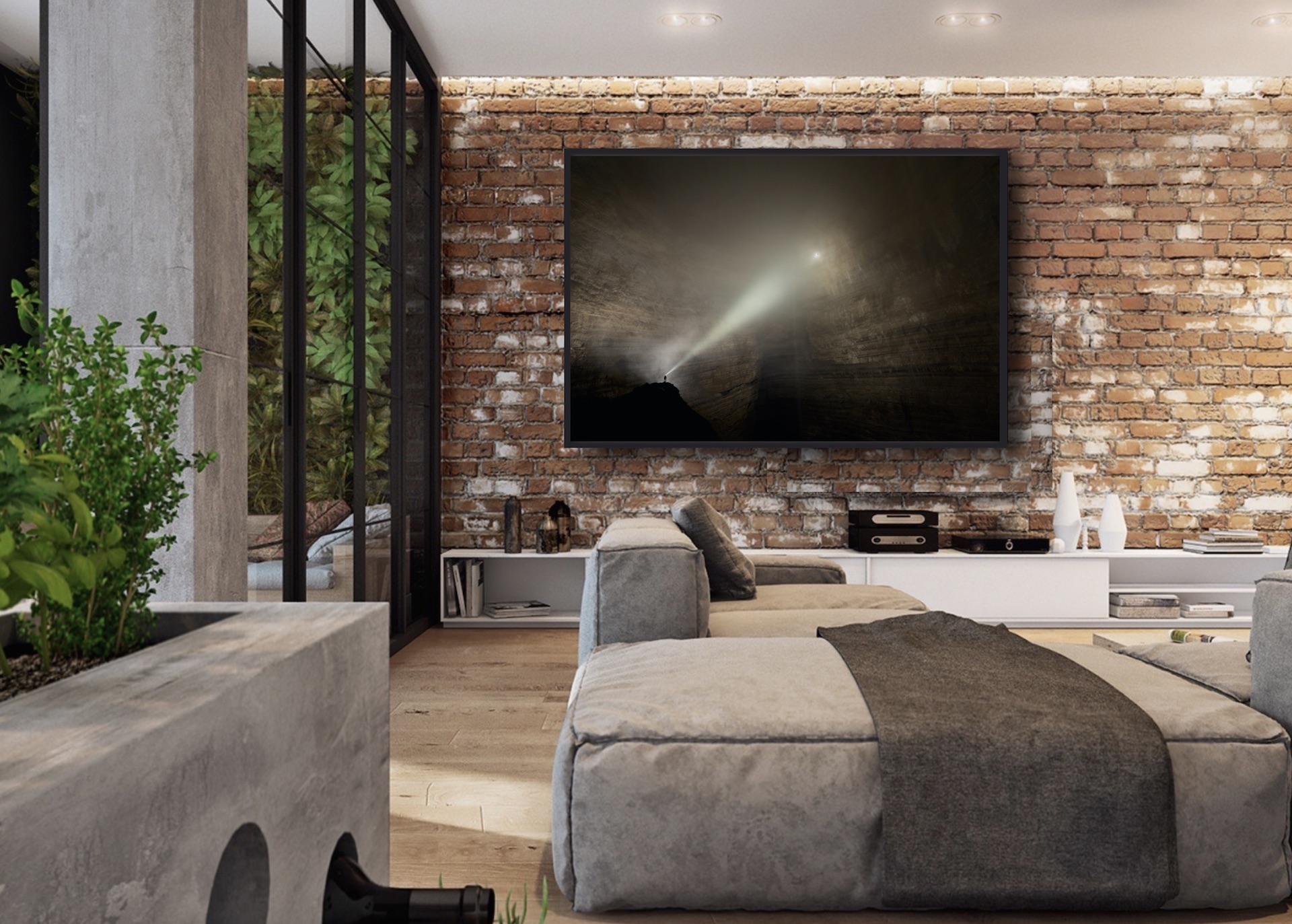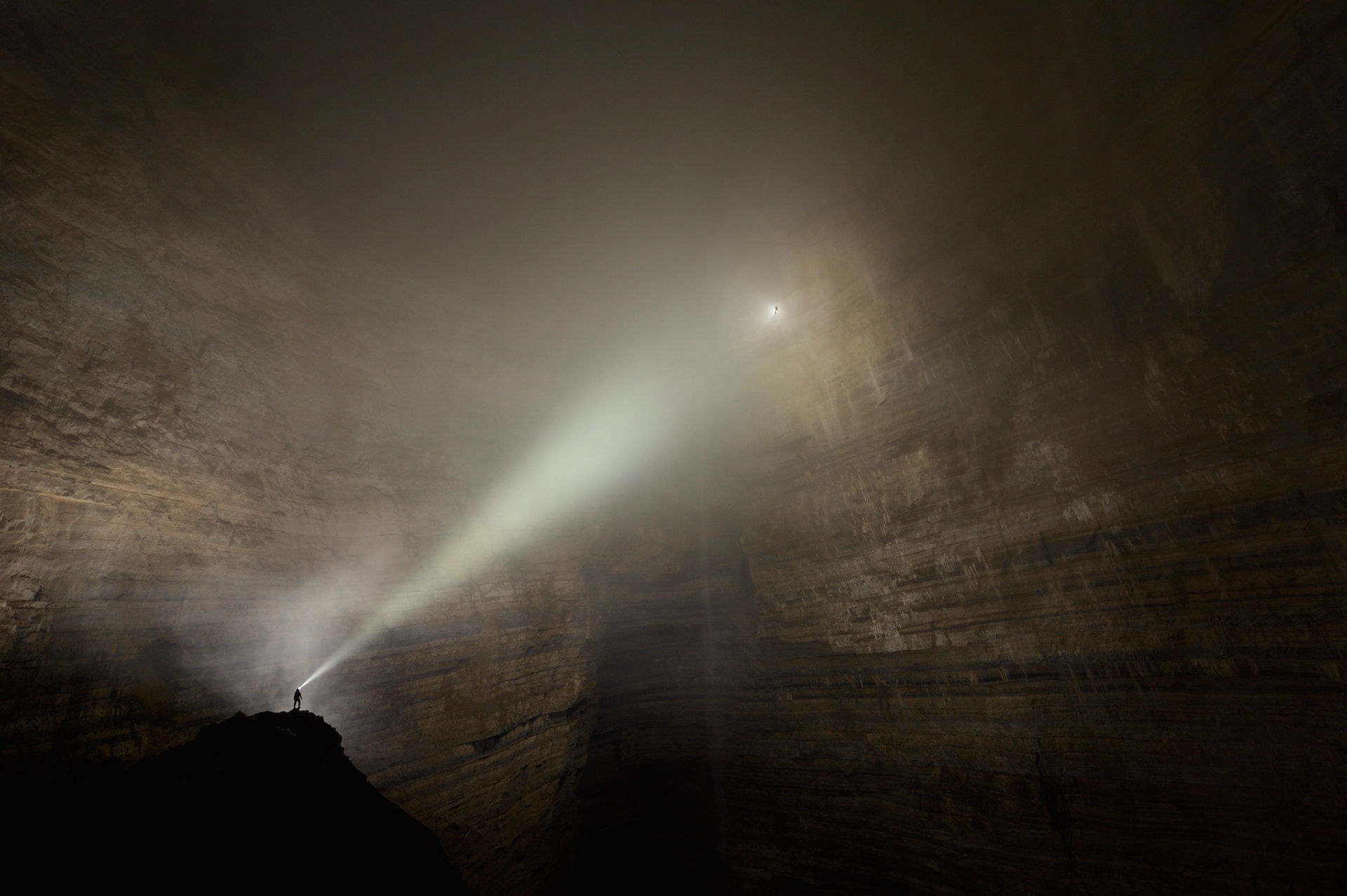 At 57,460 m2 Cloud Ladder Hall in China is one of the largest cave chambers in the world! Located inside Quankou Dong (cave) close to the small town of Tongzi in Wulong County, Municipality of Chongqing, China, Cloud Ladder Hall is a vast room, naturally formed from the intrusion of water eroding the walls and carving the huge space. The roof of the chamber is not all that far away from the surface (approximately 100m). Eventually over time, the weight of this rock hanging above this vast void of empty space will cause a huge collapse and form what in China is known as a Tian Keng or a doline that is open to the outside world. China has several of these huge surface features that are effectively collapsed cave chambers. But for now, Cloud Ladder Hall remains a hidden cave chamber many hours of caving in total darkness to see it deep within Quankou Dong (cave).
Suspended on a thin rope, engulfed in cloud and lost in time, two tiny figures are dwarfed by the sheer size on such a monumental scale of Cloud Ladder Hall in Wulong, China. The beam of light cast by the head torch of one of the explorers pierces the fog yet illuminates nothing. This naturally formed underground room is so large it has it's own weather system going on. From the central ridge overlooking the cathedral like Cloud Ladder Hall, towering up into the fog, figures add scale to this gigantic cave. High up in the distance, the roof remains unseen to the explorers. However, estimates in it's size show that it must cut through many levels of cave development along the way, forming one of the largest underground cave chambers in the world.
It was first discovered in 2009 by American explorers and prior to this date it had remained hidden and secret for hundreds of thousands of years. I remember when I first saw Cloud Ladder Hall. It was March 2012 and I was with a couple of my caving friends from England who emigrated to China 15 years ago and settled down in the city of Chengdu. We were going to visit Cloud Ladder Hall from the upper entrance, where a small high level passage enters the room very close to the top, approximately 300m (1000ft) above the floor.
One of my friends was in the original team of explorers that first found the cave in 2009. They were the very first people to set eyes on the cave. Before this, it had remained in total darkness for hundreds of thousands of years, waiting for mankind to discover it! The upper passage leading to the chamber is relatively small and requires a short squeeze through a narrow section in between several boulders before emerging on the other side on a rocky balcony sloping dangerously towards the huge black void of fog and cloud, hiding the true scale of the void.
He told me that when they first found the chamber they threw a rock down from this balcony to see how big it was and after ten or more seconds they turned around, thinking that the rock must have landed on a small ledge made from mud that muffled the sound, but immediately after they turned around the rock landed on the floor. They calculated it must be over 300m (1000ft) below them. The noise was deafening and the echo reverberated around the walls of the void for many many more seconds. They couldn't believe it! What on earth had they stumbled upon, because the small upper passage leading to the chamber is so small and so mundane in comparison, it ours you into a false sense of security and certainly doesn't prepare you for the immense scale of Cloud Ladder Hall.
This upper passage is certainly not the main inlet/outlet passage that brought the large waters that eroded and sculptured the walls of Cloud Ladder Hall, making it so big. The exploration team then turned around and went back out to fetch a very very long piece of rope so they could rappel over the edge of the balcony and explore it further.