* DETAILS
While our recommended frame color and border or bleed choice is what we feel best complements the art and vision of the artist, by all means, choose a look that best complements your style and space.
Paper Size: Is based on Full Bleed and adding a border will change the aspect ratio, so paper size may adjust slightly smaller.
Glazing: To eliminate reflective glare, our biggest work (70″ to 80″ on the long side) is protected by an archival laminate in lieu of acrylic. Up to 60″ on the long side is protected by UV acrylic.
Border: If the framed image above is showing a white border, then clicking on Full Bleed will not show what full bleed looks like. We only show how a border will look. Your choice will appear on your order. The border on work up to 40″ x 60″ is about 2.5″ and about 3.5″ on our biggest work.
Frame Color: Clicking on Frame Color will not change the color of the frame, but your choice will appear on your order.
Frames: Our frames are custom made from robust solid wood Studio moulding, 2″ deep with a 3/4″ face width and joined at the corners with butterfly joints.
Orientation: Some work can be displayed either horizontal or vertical—should you wish to change orientation, please contact us and we'll place the D-rings accordingly and confirm via email.
We print exclusively on Hahnemühle 100% Cotton Photo Rag Baryta paper and museum shadowbox frame in solid wood, Studio moulding handcrafted in a robust, contemporary profile preferred by galleries and museums worldwide.
Ask us should you need help or clarification. And please double check your (c)art to ensure your choices are correct.
Free Shipping to the US. Contact us for global shipping options.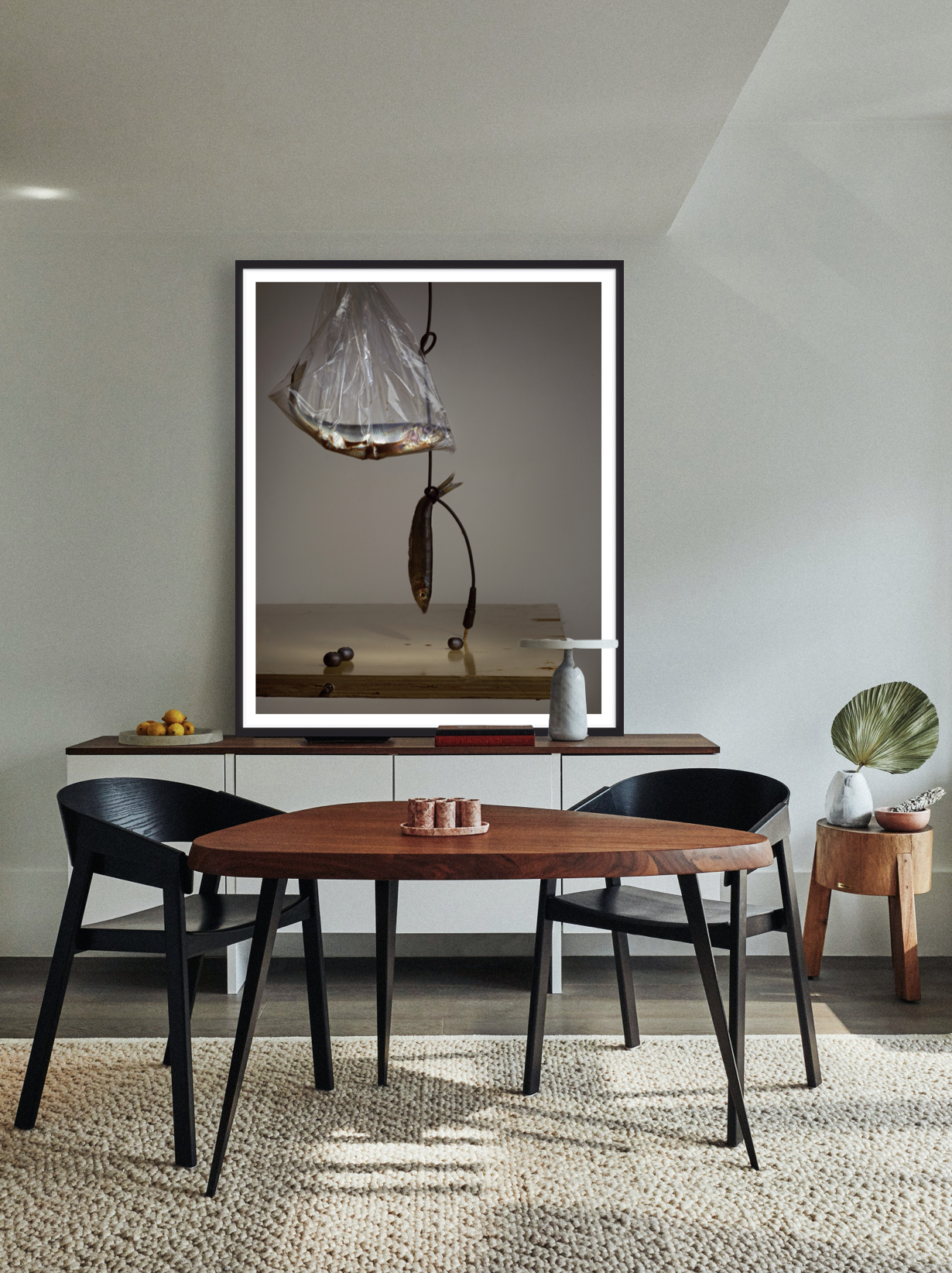 Zhe Zhu started his Vanitas series in 2012, inspired by vanitas, a type of symbolic still life painting that flourished in Flanders and the Netherlands in the 16th and 17th centuries. The term originates from Ecclesiastes 1:2 of the Bible – "Vanity of vanities, all is vanity." Vanitas paintings often use decaying flowers, rotten fruits, skulls, bubbles, clocks and other symbols to represent the meaninglessness of earthly life and the transient nature of all earthly goods and pursuits. Zhu's initial intention was to create lush images that look like 17th-century still life paintings, or "to make photography look like painting." As his experiment evolved, he started to think about the artificial space defined by painting, the symbolic meaning of the objects and the role of lighting and perspective. During the project, Zhe Zhu's grandfather passed away, making him reflect on the passage of time and the meaning of life. Zhu became personally attached to the theme of vanitas. By replacing the elements in Dutch still life paintings with daily objects from the present, he reveals the process of vanishing and decaying in his own life.
Vanitas is also a study of the similarities and differences between painting and photography. Obsessed with detail, Zhe Zhu shot with a large format film camera and a medium-format digital camera. By manipulating the depths of field in different photos, he tries not only to imitate the artificial focus in oil paintings, but also to present the high-resolution details that cannot be achieved in paintings. Meanwhile, the dim light and horizontal perspective often used in still life paintings are rarely seen in Zhe Zhu's photography. He amplifies the differences between the two media by using unconventional perspectives and ways of lighting. In Sleek (2014), cold rays of light fall on the fish and mirror-like desktop, creating a modern and industrial atmosphere. In Aerial View (2014), the objects are seen from above and appear as weightless planets lost in darkness and silence.
He has won the 15th Surface Avant Guardian Award and the International Photography Award, received an Honorable Mention at the Fifth Annual Exposure Award and was a finalist at the prestigious IRIS Awards at the Perth Centre for Photography.